After landing at La Tontouta International Airport, I made my way to the shuttle stand outside to find the airport shuttle I had pre-booked to take me to my Airbnb. There are public buses that run into Noumea from the airport, however I decided to make my arrival a bit easier and book a shuttle with a company my Airbnb host recommended (Arc en Ciel) so that I could be dropped directly at my accommodation. The shuttle dropped a few other passengers off on the way, so I ended up getting a little tour around the suburbs on the way which was a nice way to get my bearings.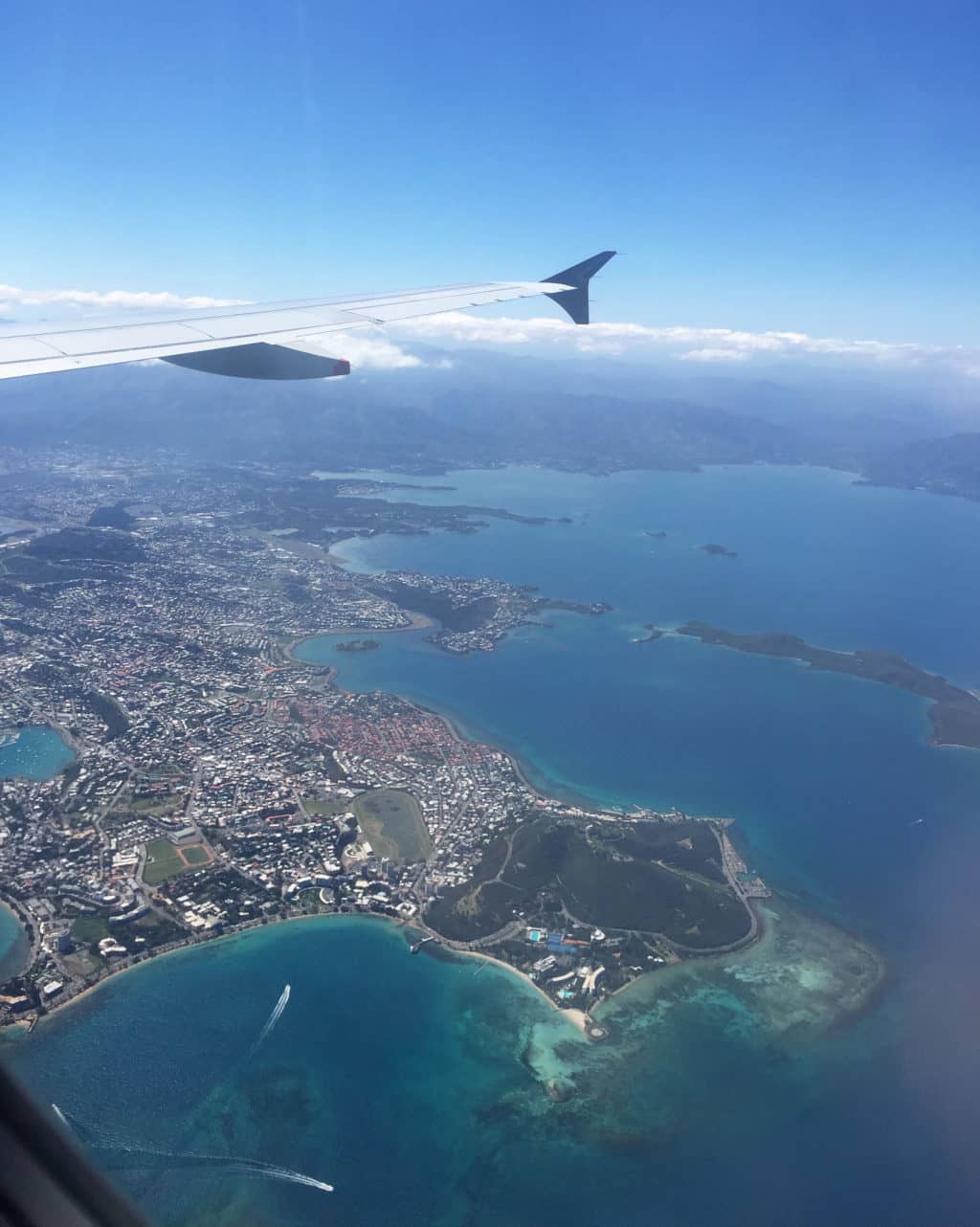 When to Go
I travelled to Noumea in September and was blessed with stunning weather for the majority of my trip. New Caledonia has a tropical climate, so it's warm year-round, however I would recommend planning your trip around their dry season (July to October) for slightly lower temperatures and less rainy days. Travelling in the tropical rain season (December to February) means hotter temperatures and more humidity, rain, and mosquitoes! I can't say I was ever cold in Noumea in September, even though it's technically their winter. Every day was warm enough for a swim, and I lived in summer clothing the whole time. I think I brought one jacket and one pair of leggings "just in case" and they definitely stayed in my suitcase!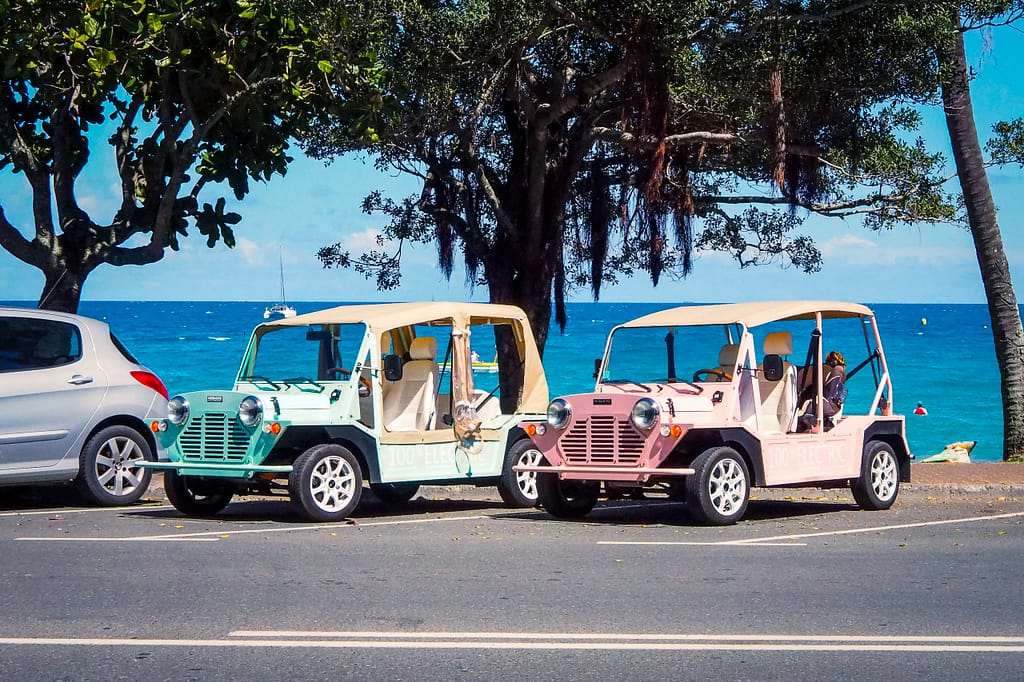 Where to Stay
Different styles of accommodation are available in Noumea, from upmarket resorts to business hotels, guesthouses, and even one hostel! I decided to go with Airbnb as I wanted to stay with a family who I could hopefully practice speaking French with.
My Airbnb was located in Baie des Citrons (Lemon Bay), which was perfect as the beach was lovely to swim at, there were plenty of restaurants and bars to choose from along the waterfront, and it was close to Anse Vata – where you can get a water taxi to nearby islands. Although these southern bays are considered the more "touristy" area of town, plenty of locals also live in the area so the only time you really notice a mass of other tourists is when a cruise ship is in.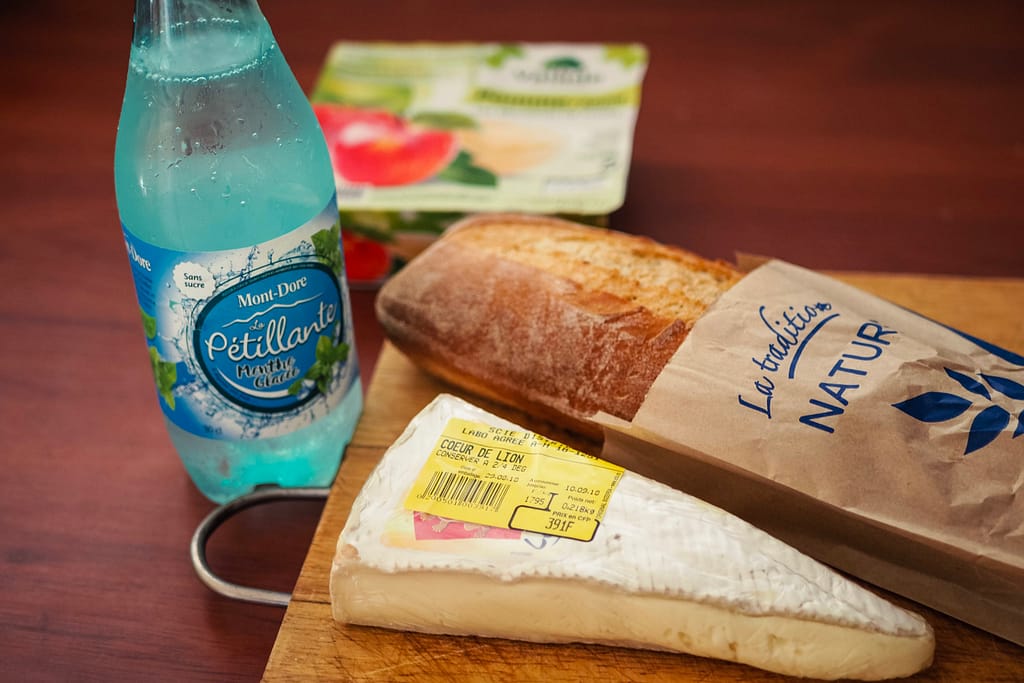 Food, Glorious Food
New Caledonia is a French territory, so naturally the supermarkets are well stocked with baguettes, wine, and a seriously impressive cheese aisle. Most of my lunches consisted of fresh bread with tomatoes, cheese, and charcuterie of some sort. Oh, and a glass of Orangina, which we can't easily get in New Zealand (I definitely drank a lot of the stuff).
One of my tastiest memories of Noumea was ordering a fresh juice blend of orange, mango, and pineapple at Maxi Juice in Anse Vata. It was probably the best juice I've ever had. Another place I'd recommend is Malongo Café, also in Anse Vata, specifically for it's breakfasts which come with tasty fresh bread, a hot drink, and juice (there's also free wifi and comfortable deck chairs outside). They also do a decent croque monsieur if you're in need of lunch.
Unfortunately, I didn't get a chance to try the famous local dish of Bougna (root vegetables, meat, banana/plantain, and coconut milk wrapped in banana leaves and cooked under hot stones – yum!) however if you're planning on visiting or staying with a Kanak tribe while in New Caledonia you may have the opportunity.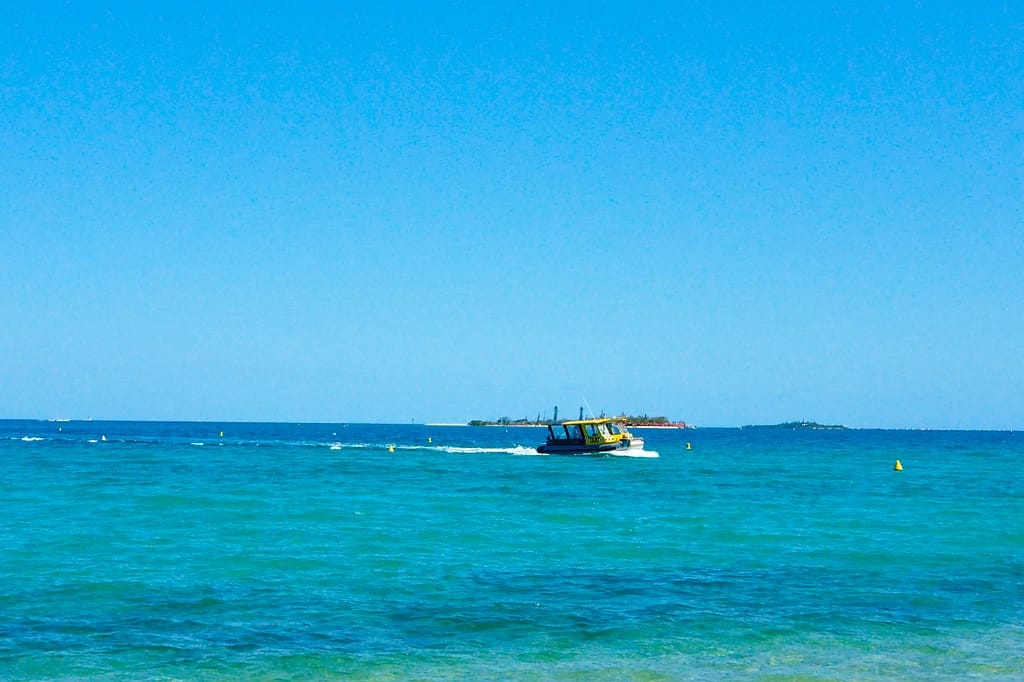 Things to Do
Noumea City Market, Port Moselle
On my second day in Noumea, my Airbnb hosts offered to take me along to the market with them. It's open every day, however Sunday is the best day to go as all of the stalls are open and there's a lively atmosphere as locals gather to purchase food for the week ahead. After picking up produce and some fresh fillets of tuna, my hosts took me to the centre of the market for a coffee and a chat (featuring my mistake-laden French and a bit of English).
Aquarium des Lagons, Anse Vata
Located in Anse Vata, but only a short walk away from Baie des Citrons, is the Aquarium des Lagons. This was one of my favourite places I visited in Noumea as you can see a variety of sea life from the area up close, and hopefully recognise them later when you go snorkelling! There are also a couple of species that you probably don't want to run into (eg. a lionfish or one of the stripy tricot rayé sea snakes – although bites are extremely rare).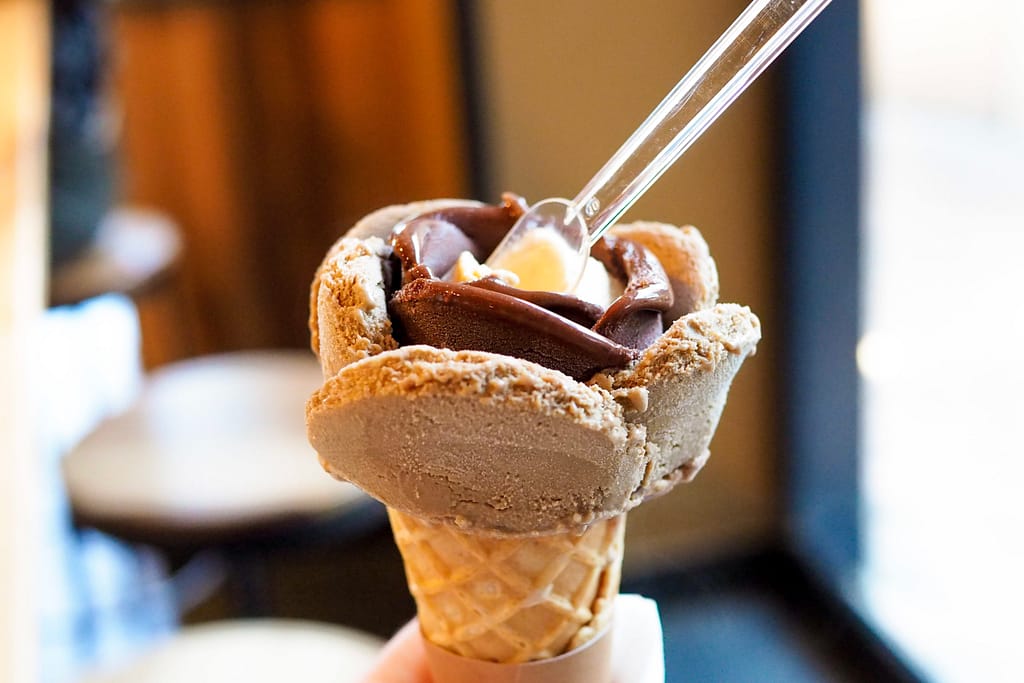 Amorino, Baie des Citrons & Anse Vata
Warm temperatures definitely call for ice cream, and I stopped more than once for gelato at Amorino, located in both Baie des Citrons and Anse Vata. Amorino sell delicious cones of gelatos and sorbets, arranged in an Instagram-worthy rose formation, along with other drinks and desserts.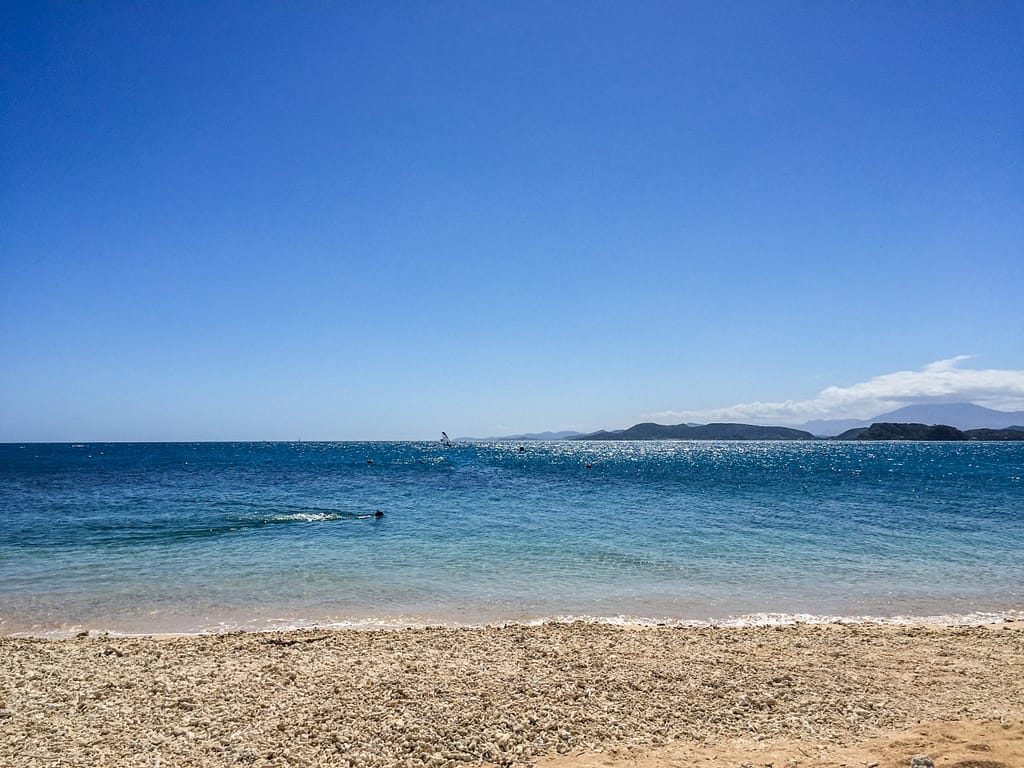 Snorkelling, Ile aux Canards
Dotted along the shore at Anse Vata are taxi boats that will take you to and from nearby islands. These include Amedee Island, Ilot Maitre, and Ile aux Canards (Duck Island). I visited tiny Ile aux Canards as it was the closest (and cheapest), you can see its red umbrellas from the mainland! On the island you can hire a sun lounger that comes with an umbrella, and even though it was quite expensive it was worth it as the beach is mainly fragmented coral and there isn't much shade. I would recommend bringing your own snorkel as the rental gear on the island isn't great quality and is quite expensive. Food-wise, I brought my own lunch, but there is a casual restaurant/bar in the centre. Now, about the snorkelling! Duck Island has an "underwater snorkelling path" marked by numbered buoys which guide you around the reef so that you don't disturb the more fragile coral. The reef and sea life here was breathtaking, I only wished I had a GoPro to capture it! I also saw my first sea turtle in the wild, which I was very excited about, and thankfully no snakes…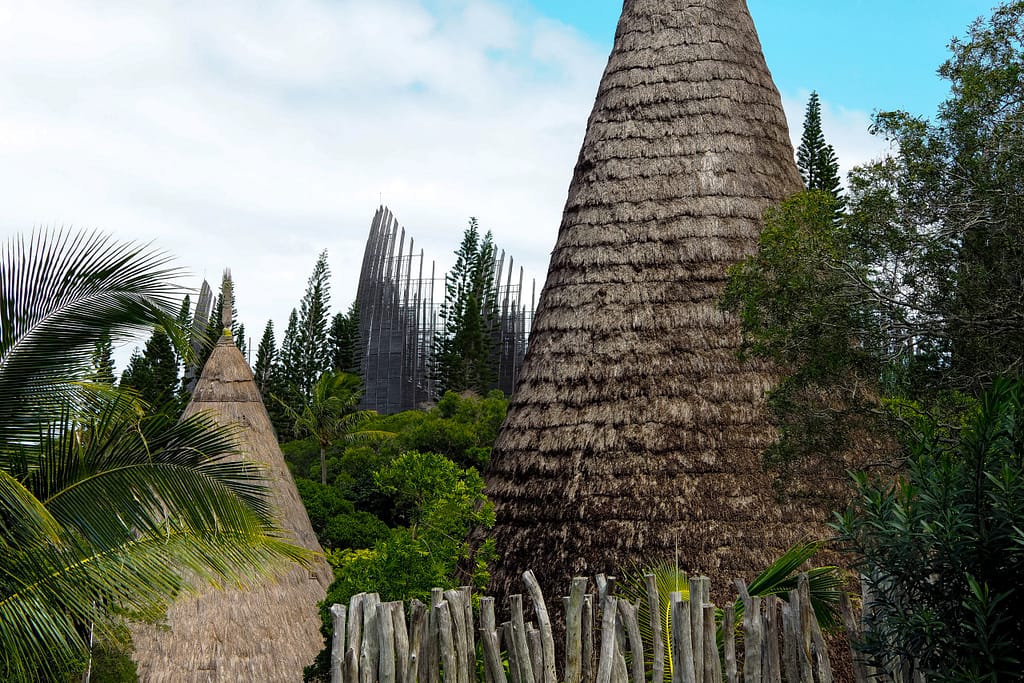 Jean-Marie Tjibaou Cultural Centre
One of the days during my stay was a bit more overcast, so I decided to head in the opposite direction of the beach to see some other attractions. The Jean-Marie Tjibaou Cultural Centre was designed by renowned architect Renzo Piano (designer of The Shard in London and the Pompidou in Paris) and was established to educate people about the culture of the Kanak (the indigenous people of New Caledonia). If you're wanting to learn more about the native people, this is a great place to start. There is also an interesting little art exhibition and cafe inside the main building.
Parc Zoologique et Forestier Michel Corbasson (Zoo & Botanical Gardens)
If you want to see some interesting animals and plants while also racking up the steps on your Fitbit, this is a good place to do it! This isn't a "zoo" in the traditional sense, you won't see lions or elephants here, the main focus is the endemic flora and fauna of New Caledonia – including the cute blue Cagou (seen above).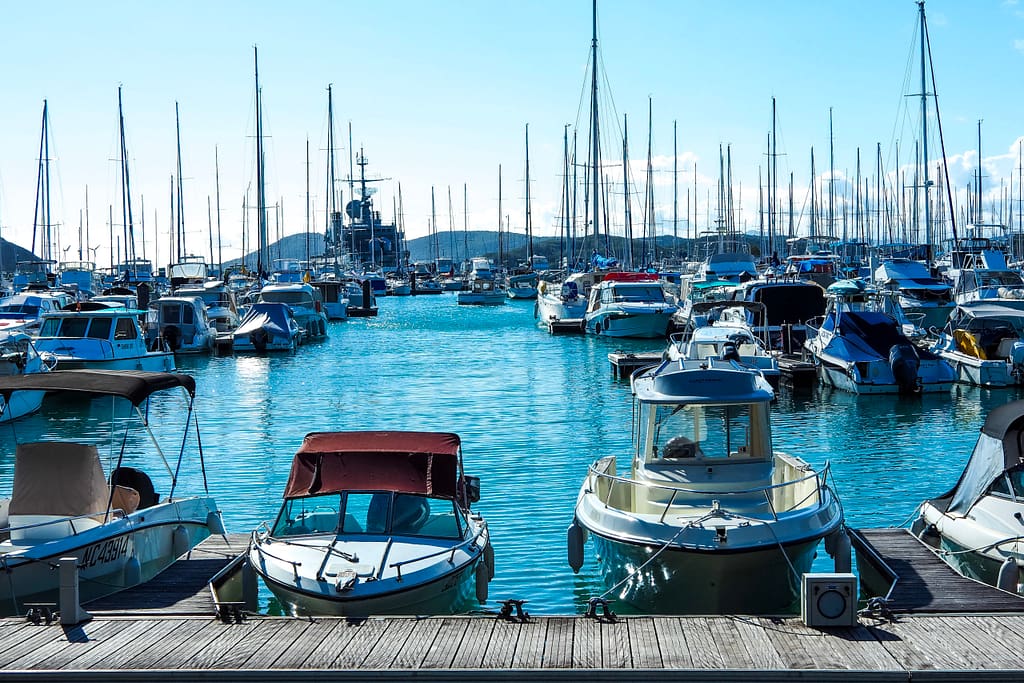 Wait… where on earth is New Caledonia?
New Caledonia is located near Vanuatu, east of Australia and north-west of New Zealand. La Tontouta International Airport is served by four airlines; Air New Zealand (ex Auckland), Air Vanuatu (ex Luganville, Port Vila), Aircalin – the national airline (ex Auckland, Brisbane, Melbourne, Nadi, Osaka, Papeete, Port Vila, Sydney, Tokyo, Wallis Island), and Qantas (ex Brisbane, Sydney). I flew from Auckland with Air New Zealand after nabbing some cheap flights on their Grabaseat website.
There is lots to see and do outside of Noumea, including the changing landscapes up and down the mainland, surfing up the coast in Bourail, tribal visits, the beautiful Isle of Pines (which I regrettably missed!), the Loyalty Islands to the east, and plenty more. I definitely recommend it as a destination that is a little bit off the beaten track (many of my friends had no idea where it was), is easy to get to from New Zealand, has great snorkelling, and a variety of experiences for all sorts of travellers.