Cornwall – a rugged but beautiful patchwork of nature and history, where myths and legends abound and the seafood is as fresh as it comes. Summer sees crowds flock to the golden sands of the Cornish coast, primarily Brits trying to squeeze every last drop of Vitamin D afforded to them by the weather gods. As the months grow cooler, surfers continue to brave the Atlantic tides and fishing boats still bring back their catch of the day. Whenever you decide to visit, the beautiful landscapes and warm southwestern hospitality will be waiting for you. On this trip, we decided to focus on the north coast, as we wanted to allow enough time to properly explore without having to rush around too much. I'd love to go back and see the south coast sometime too!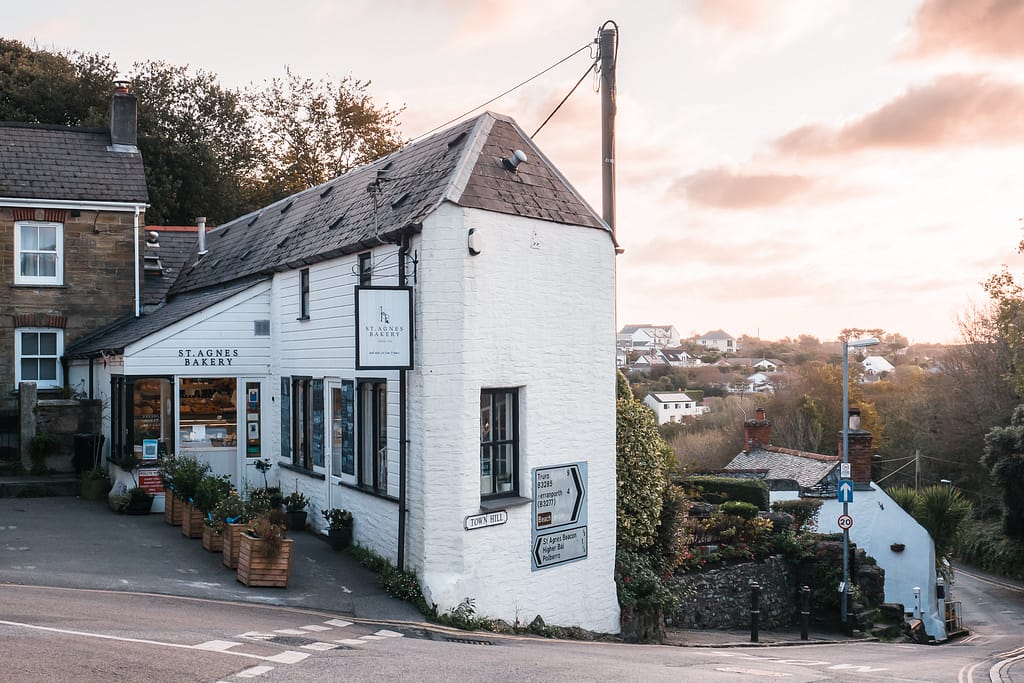 St Agnes
This little gem of a village wasn't somewhere we initially had on our list when organising a trip to Cornwall, however we managed to find the perfect cosy cabin to stay in and I'm so glad we picked it! St Agnes is a lovely little village boasting stunning clifftop hikes, pretty old stone buildings, and a rich mining history. Heading downhill from the village takes you to Trevaunance Cove, the main beach here. Once a busy trading harbour, today the cove is favoured by keen surfers and families in the summer. We took our lunch from the bakery here to enjoy it with a view.
St Agnes Bakery is a must-visit. Located at one end of the quaint high street, it was established over a century ago and is renowned for its giant sausage rolls. Traditional Cornish pasties are also sold here, as are a variety of sweet treats and loaves of bread. We tried both a traditional and a vegetarian pasty, as well as a pork and pickle sausage roll, and I'd recommend all of them. There's something for everyone, with vegan and vegetarian options available too. As for a drink, something truly local I tried was Touchwood Cider, brewed in St Agnes itself from Cornish apples. You can most likely find it at the local pubs, but I just bought a bottle from the convenience store in the village to enjoy after a long day of walking.
One of the most memorable activities on our trip was the hike from St Agnes Head to Chapel Porth Beach (above left) along a small portion of the South West Coast Path. The clifftop track offers incredible views over the Atlantic, waves crashing against the rugged coastline below you. Along the way you come across Wheal Coates (above right), a historic tin mining site which has been designated a UNESCO World Heritage site. The picturesque stone structures here are emblematic of St Agnes, you may have seen them before in the popular BBC series, Poldark. Our hike to Chapel Porth and back probably took about an hour total, including lots of photo stops. If you're wanting a longer or more challenging hike, there are various routes and loop tracks you can take to explore this area – check out the South West Coast Path site for more information.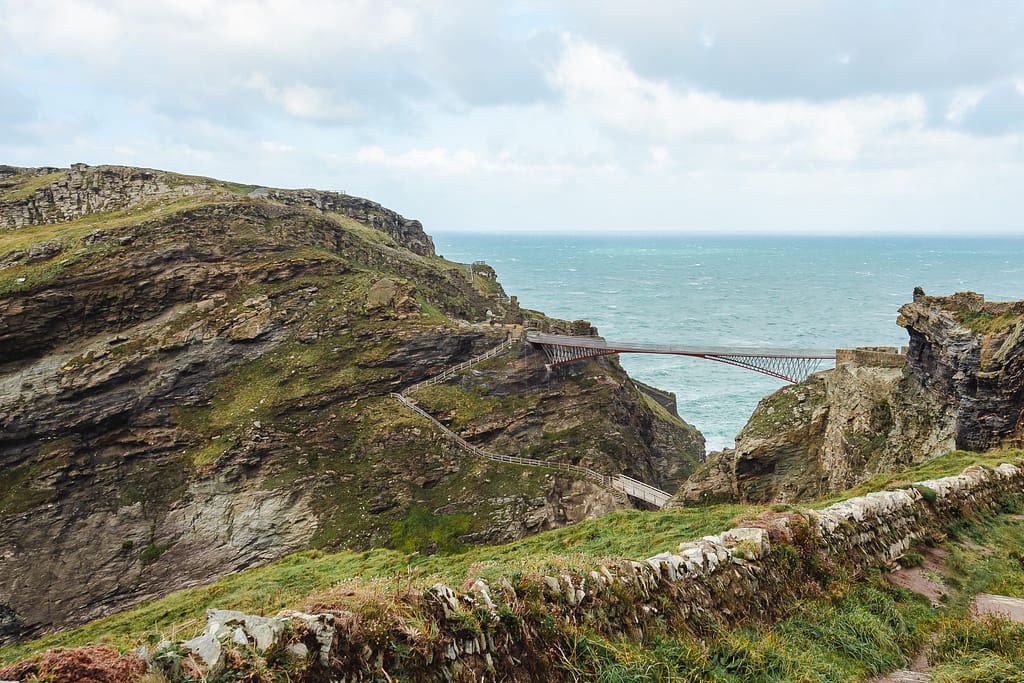 Tintagel
Supposed birthplace of the legendary King Arthur, Tintagel is a place steeped in both history and mythology. The main attraction here is Tintagel Castle, the ruins of which date back to circa 1240. This area has been inhabited since the time of the Romans, with various interesting archaeological finds made here over the past decades. Over centuries, the land around the castle's peninsula has eroded it into more of an island, requiring a bridge to access the site.
Unfortunately, on the day we visited, the wind was incredibly strong and the castle site was closed. Although this was a bit disappointing, we were still able to explore Castle Cove with its spectacular crashing waves and eerie Merlin's Cave. After wandering around a bit it started to rain, so we decided to head back up to the village and get some lunch. We got a table at King Arthur's Cafe for a coffee and a panini. Admittedly, the name does make it sound like a bit of a tourist trap, but the food was really good and prices weren't bad at all (especially when compared with London prices!)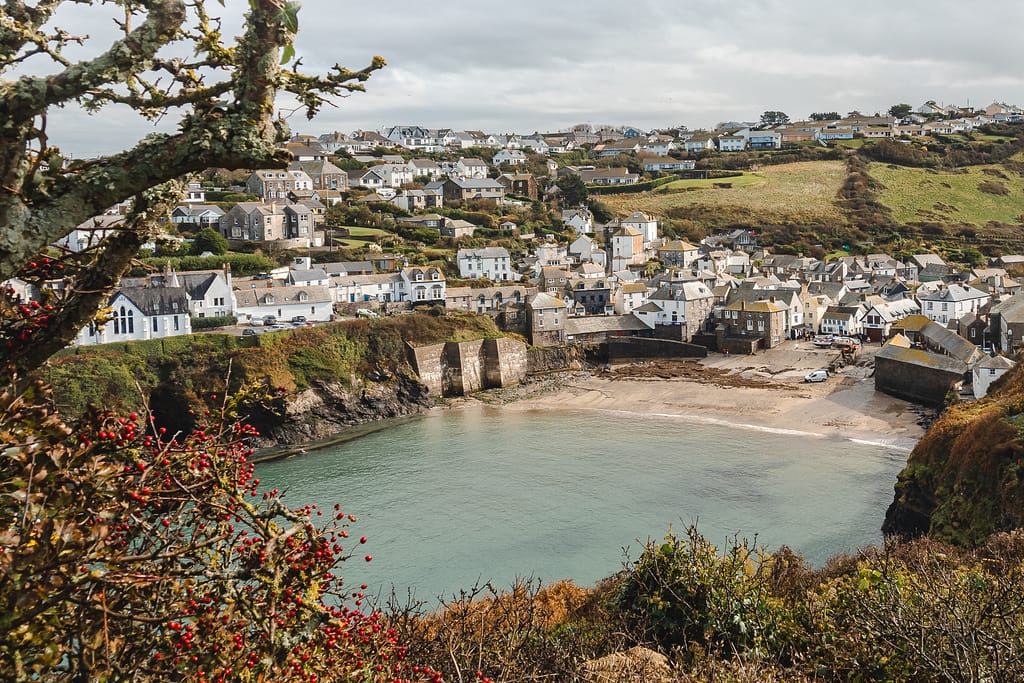 Port Isaac
A must-see on any road trip around Cornwall is the delightful and quaint fishing village of Port Isaac. Made famous by the popular British television series, Doc Martin, this spot is on many a tourist's itinerary. I was pleasantly surprised to find that Port Isaac didn't feel too touristy or overdone in person, and in fact I think I'd say it was one of my favourite places we visited. The charming narrow streets are lined with traditional white-washed stone cottages, characteristic of the English seaside. The port has been active since the Middle Ages, while the village itself likely has Celtic origins. A short walk up the hill where the fictional Doc Martin's house (Fern Cottage) is located will take you to a coastal path with stunning views over the harbour.
After enough time wandering around Port Isaac, it was time for some lunch. Being a seafood fan, I definitely aimed to try a lot of the fresh, local fare while in Cornwall. Fresh From The Sea is an unassuming little seafood outlet located on the road heading out of Port Isaac toward neighbouring Port Gaverne. It's not exactly cheap, but the crab and lobster here is caught daily in Port Isaac itself, so this establishment definitely lives up to its name. We tried a few of the items from their daily specials blackboard, including a crab sandwich, lobster salad pot, and some delicious steaming-hot seafood chowder. If you're not on too much of a budget, I'd definitely put this one on your list.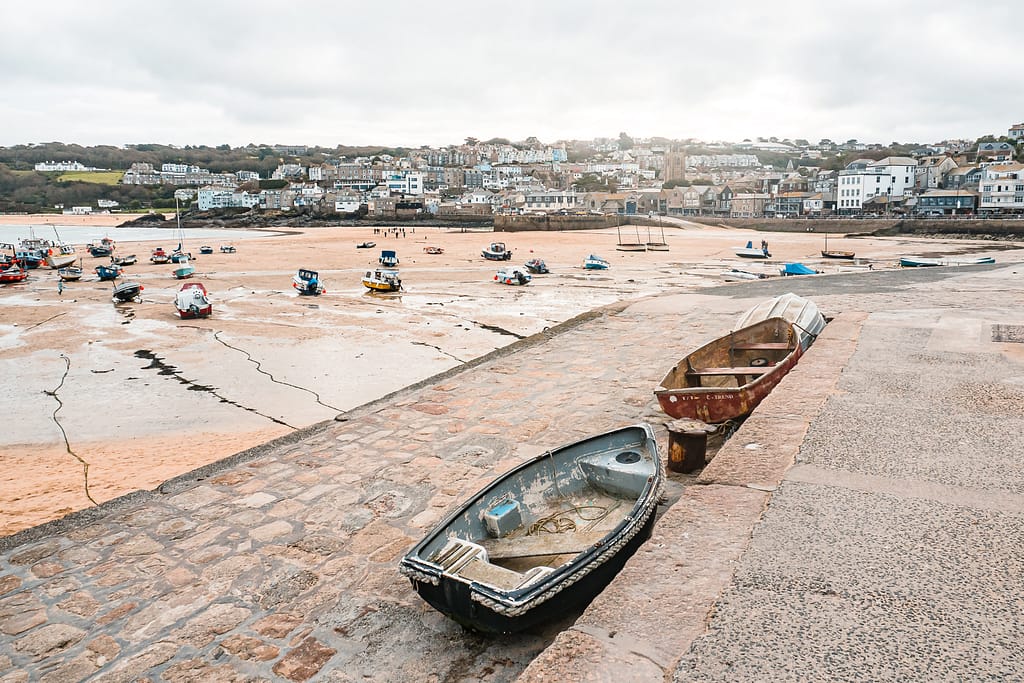 St Ives
In medieval times, St Ives was one of the most important fishing ports in Cornwall. From the 1920s, the town became a haven for artists and was eventually considered a major centre of British art. Today, St Ives is very popular with holidaymakers in summer who come to surf and sunbathe on the golden beaches. As the temperature was around 10ºC when I was there, summer activities weren't on the agenda. Thankfully, there were still sights to see and seafood to try!
After wandering down from our carpark, we headed to The Beach Restaurant on the harbour front for lunch. On the menu was a starter of cockles and an oyster each, followed by crab linguine and a fillet of plaice with potato and lemon butter to share. Everything we had was delicious, plus I loved how you could select both your fish and the flavour of butter or crust.
If you visit St Ives in the summer, you'll no doubt be making the most of the weather down at one of the stunning beaches. Off-season activities could include wandering the cobblestone streets to see the historic seaside cottages, perusing the local boutiques for a souvenir or two, or climbing St Ives head for panoramic views over Porthmeor Beach. One for the art-lovers, Tate St Ives is a renowned gallery showing works largely by artists who have a connection to the area. Beachcombers can head to one of the numerous coves that surround the town, perhaps you'll even spot a seal up close (we did!).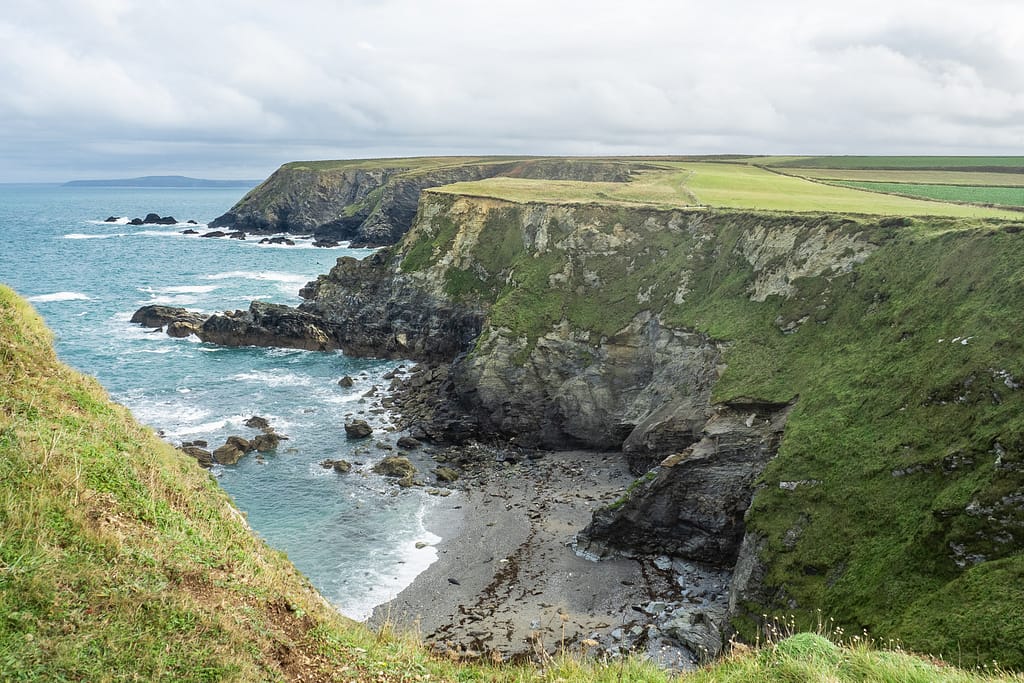 Godrevy
Mutton Cove is an inaccessible beach with views only from the top of the cliffs which enclose it. It was one of our absolute highlights of the trip. This secluded spot is a safe haven for a large group of grey seals, who laze about on the shore en masse. About a 25 minute drive east of St Ives takes you to Godrevy. Here you can park in the National Trust carpark (closer, but it costs) or try to nab a free spot on Churchtown Road and wander your way up past views of Gwithian Beach.
En route, we took our KeepCups to Godrevy Cafe for a much-needed flat white, before continuing along the South West Coast Path. Once up on the cliffs, Godrevy Lighthouse can be seen on its uninhabited islet, built in the mid 1800s after many lethal shipwrecks had occurred in the area. The wind was strong across the clifftops that day, requiring caution once we reached the viewpoint over Mutton Cove. Below us were the most seals I've ever seen in one place, most just relaxing on the sand but some heading into the water to fish and frolic. We even managed to spot a few adorable seal pups rolling around and it was great fun trying to photograph them.