The last stop on my South Island trip was Queenstown, the adventure capital of New Zealand. I drove there from Wanaka taking Crown Range Road, via Cardrona, Arrowtown, and Lake Hayes. Crown Range Road is probably one of the most spectacular roads I've driven on. However, it's definitely not for the faint-hearted or anyone who's a bit of a nervous driver… If the idea of hairpin bends and driving along a cliff face doesn't sound like your idea of fun… Take the more straightforward State Highway 6 route from Wanaka to Queenstown. During winter, the Crown Range Road can be busy with keen skiers heading to the slopes of Cardrona Alpine Resort. You may be required to use snow chains or the road could be closed if there's heavy snow.
Just before the road zig-zags its way down towards Arrowtown, there's an excellent lookout. Stop for a breather and a great view over the valley with its hilly surroundings. This view must change quite dramatically with the different seasons. After you've breathed in some fresh air and taken a few pictures, it's time to slowly hairpin down the hill.
Arrowtown
Located a 20 minute drive from Queenstown is quaint, picturesque Arrowtown. I stopped here on my way from Wanaka to Queenstown to stretch my legs, have some lunch, and appreciate the glorious autumn colours of the trees. Arrowtown is an old gold mining town, located on the banks of the Arrow River. For food, I can recommend Provisions of Arrowtown, where I stopped for a coffee and a delicious mushroom tart. The cafe is located in an old villa surrounded by a garden so you can sit outdoors if you like. For a leisurely walk, head down to the Historic Arrowtown Chinese Settlement and along one of the riverside paths.
— Provisions of Arrowtown 66 Buckingham Street
Lake Hayes
On my way from Arrowtown to Queenstown, I passed Lake Hayes and stopped at Lake Hayes Pavilion. Here there's plenty of parking and stunning views over the mirror-like lake. You can walk all the way around the lake on the Lake Hayes Circuit from the Pavilion in about two hours. Unsurprisingly, Lake Hayes is one of New Zealand's most photographed lakes. The grassy area around the Pavilion is a lovely place for a picnic and there are also quite a few wineries in the area if you're in the mood for a wine tasting!
— Lake Hayes Pavilion 1/719 Gibbston Highway, Frankton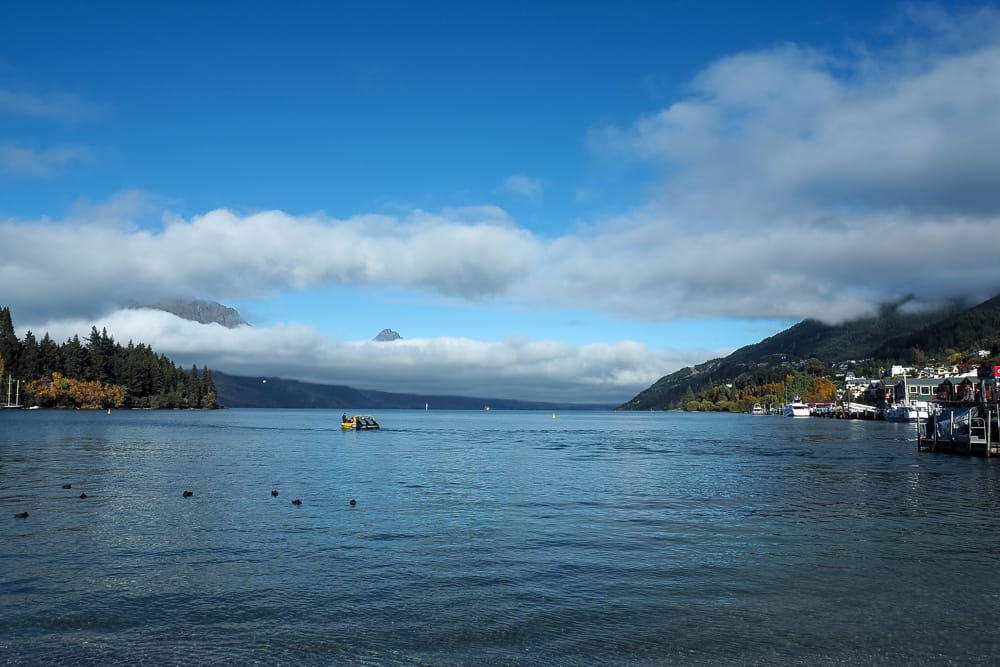 Central Queenstown
I stayed at Nomads Queenstown for three nights and let me tell you, if you're a light sleeper and don't plan on staying up till the wee hours… I wouldn't stay here. This hostel was definitely more suited to keen partiers who plan on going out dancing until 3am. If I did this trip again I'd definitely pay a bit more to stay at a smaller hostel or an AirBnB. However, the one bonus of staying at Nomads was the location – super central and easy to walk anywhere.
Something else to keep in mind is that free parking in central Queenstown is few and far between. If you're planning on having a rental car then I recommend making sure your accommodation has parking available. I took my rental car back early as central Queenstown is super walkable and it wasn't worth the hassle of parking overnight. Queenstown seems to have decent public buses as well. If you are travelling to or from the airport on a bus, get one of their transport cards for cheaper fares.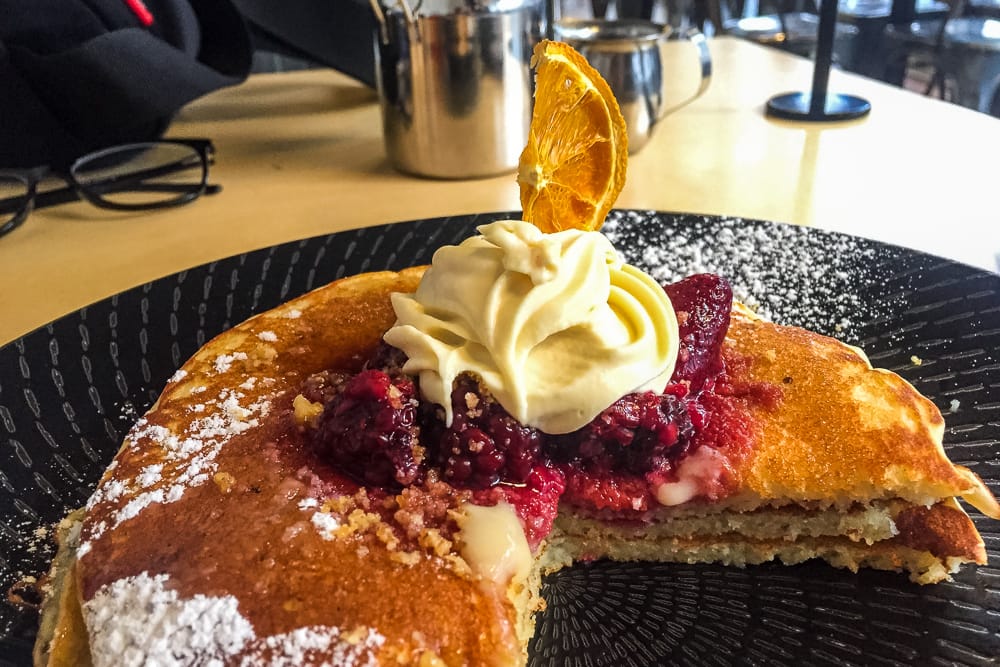 For food, I decided to skip the insane lines at the renowned Fergburger (honestly, I walked past at about 8:30am one day and there were people waiting…). Instead, I had a delicious pho at Saigon Kingdom one night, and Devil Burger the next. Queenstown definitely doesn't suffer from a shortage of good food places. You can probably find a well-reviewed place that serves whatever you're in the mood for. For my last breakfast, I had some amazing buttermilk hotcakes (pictured) at The Exchange, before hopping on a bus to the airport. I only took one food photo on this trip and it was on my phone's mediocre camera. I definitely need to remember to take more food photos so I can share on here!
— Saigon Kingdom 88 Beach Street
— Devil Burger 5/11 Church Street
— The Exchange 39 Ballarat Street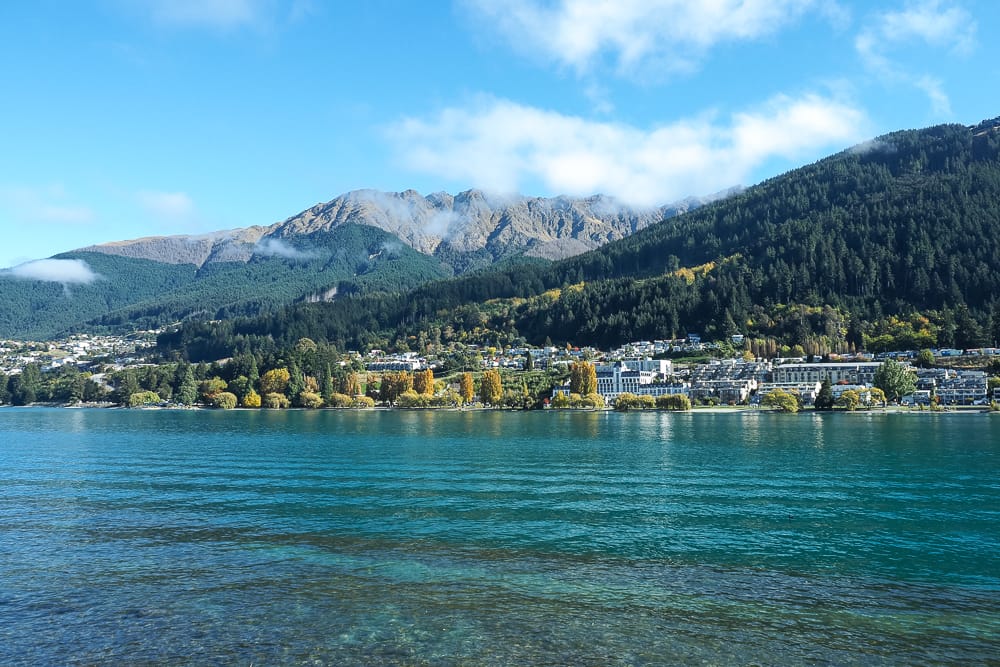 For coffee, I highly highly recommend Mackenzie Coffee Co., tucked away on a little lane in the middle of town. I'm lactose intolerant, so although I'm not a huge fan of the taste of soy, it's either soy or black coffee for me! (I personally don't like almond or coconut milk in coffee and lactose-free dairy milk isn't really an option in cafes here yet, we're always a few years behind in NZ). Anyway, I digress… Their soy flat white was incredible. In fact, I don't think I had a bad coffee the whole time I was in the South Island. Clearly they know how to do coffee down there. I also did make a cheeky couple of visits to Starbucks in the evenings to take advantage of the free wi-fi.
For a sweet treat or an edible souvenir, the fudge at The Remarkable Sweet Shop is a great idea. There are stores in Arrowtown, central Queenstown, and Queenstown Airport. If you're a Harry Potter fan, this is basically what I imagine Honeydukes may have looked like. Here you can try the numerous flavours of fudge they have on offer until you find one that tickles your fancy. I took home a square of the russian fudge, creme brulee fudge, and a hot cross bun flavour that was a limited edition around Easter. There are hundreds of other different treats you can get here, including quite a few classic Kiwi sweets, but I was just hooked on the fudge.
— Mackenzie Coffee Co. Cow Lane
— The Remarkable Sweet Shop 39 Beach Street; Queenstown Airport; 27 Buckingham Street, Arrowtown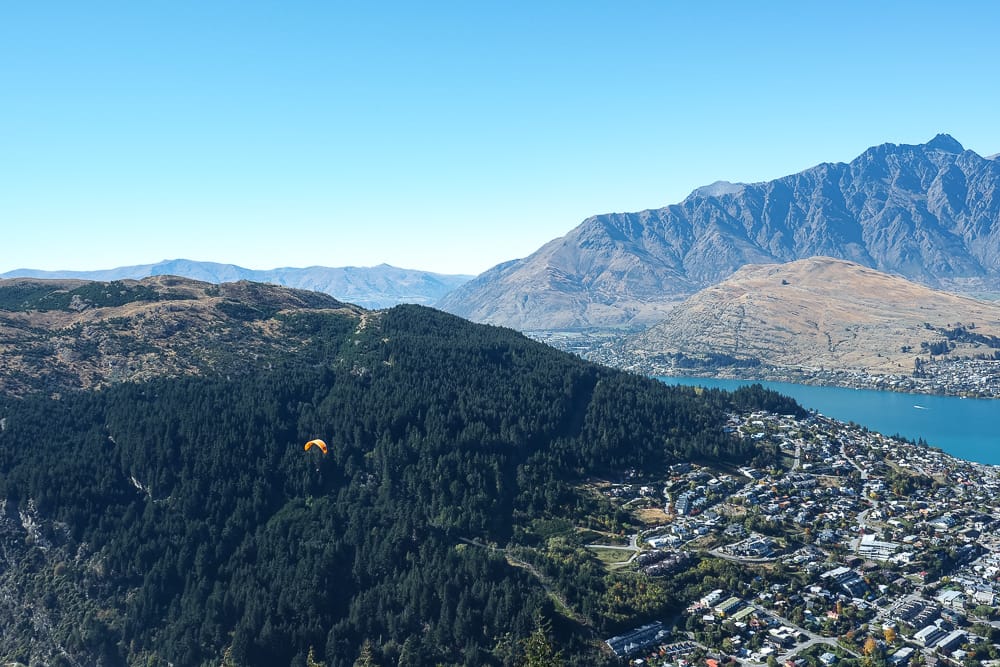 For a nice walk, stroll across the shores of Lake Wakatipu and follow the trail along the little peninsula where the Queenstown Gardens are located. A great place to bring a coffee or a picnic lunch. For a more panoramic view over Queenstown, head up to Skyline Queenstown for a gondola ride up to the viewing platform. It's quite pricey, but the views are truly incredible. You can walk up a track to get here but it is a very steep track that zig-zags its way up the incline. Usually I'm fine with walking, but when it's that steep – I'd rather take the easy way out, plus the gondola is an experience in itself. There is a cafe and restaurant at the top, as well as the opportunity to do luge rides. Make sure it's a clear day before you go up so you can get the best view of the Remarkables mountain range.
— Skyline Queenstown 53 Brecon Street, Queenstown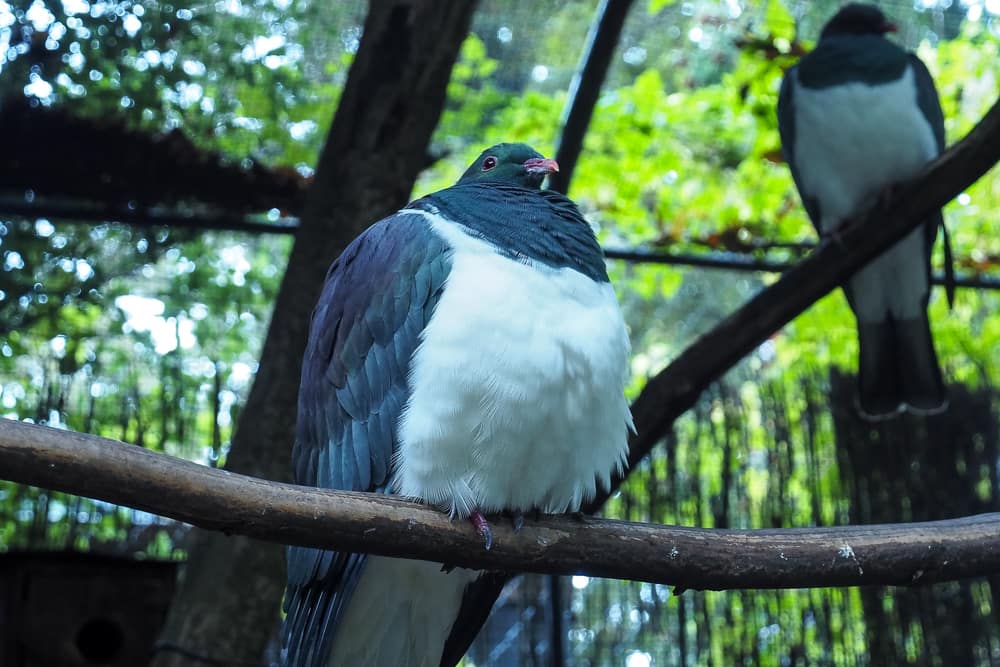 After coming down the gondola, I saw some signs pointing to the Kiwi Birdlife Park. This little aviary does lots of conservation work in New Zealand helping to preserve our native species. Here you can actually see our beloved kiwi up close, as well as a bunch of our other native birds and reptiles. I personally love our native pigeon, the chubby kereru, pictured above. The live show is worth seeing if you can, and when I went it was timed so that you could see the kiwi feeding right afterwards.
— Kiwi Birdlife Park Upper Brecon Street, Queenstown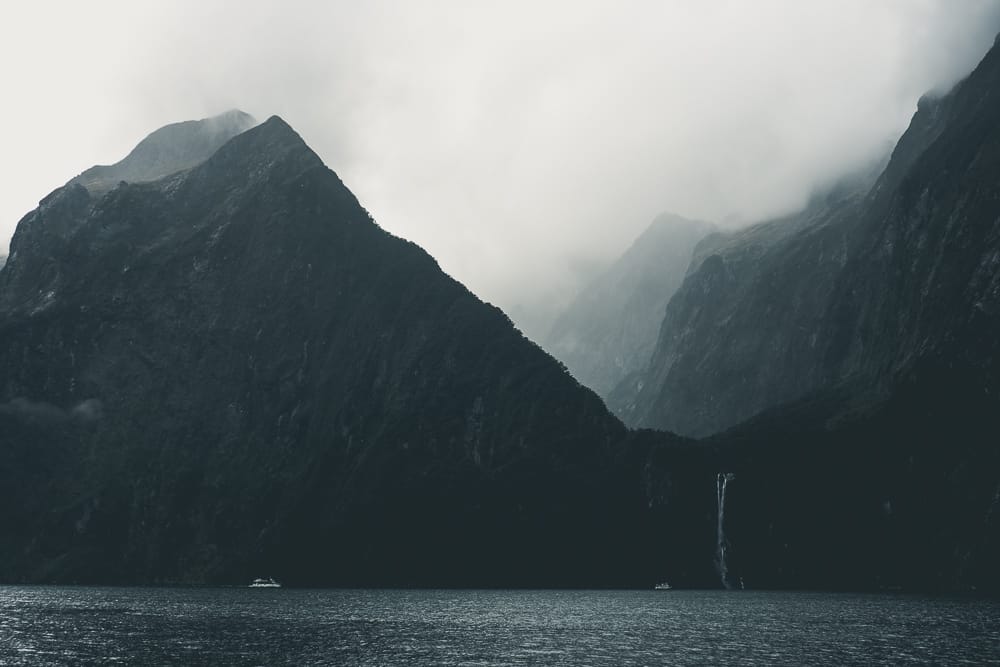 Milford Sound
When planning my trip I figured I had to include Milford Sound as I'd heard so many people rave about how amazing it was. I think it's one of our main tourist attractions here in New Zealand. Since I had hired a JUCY rental car, I was able to get a discount on one of the JUCY cruise packages that departs from Queenstown. I chose the Premium cruise as it wasn't much more and paid a bit extra for a front seat on the bus for better views en route.
The bus itself was comfortable, had USB ports to charge your phone with, and we stopped off in Te Anau for lunch along the way. The tour guide gave interesting commentary along the way, and we stopped at a few points of interest between Te Anau and Milford. On the ride back, it was getting dark outside, so we watched an interesting documentary and then a quite recent Kiwi comedy film called Hunt for the Wilderpeople. I think I was the only Kiwi on the bus, but the humour seemed to translate and everyone laughed along.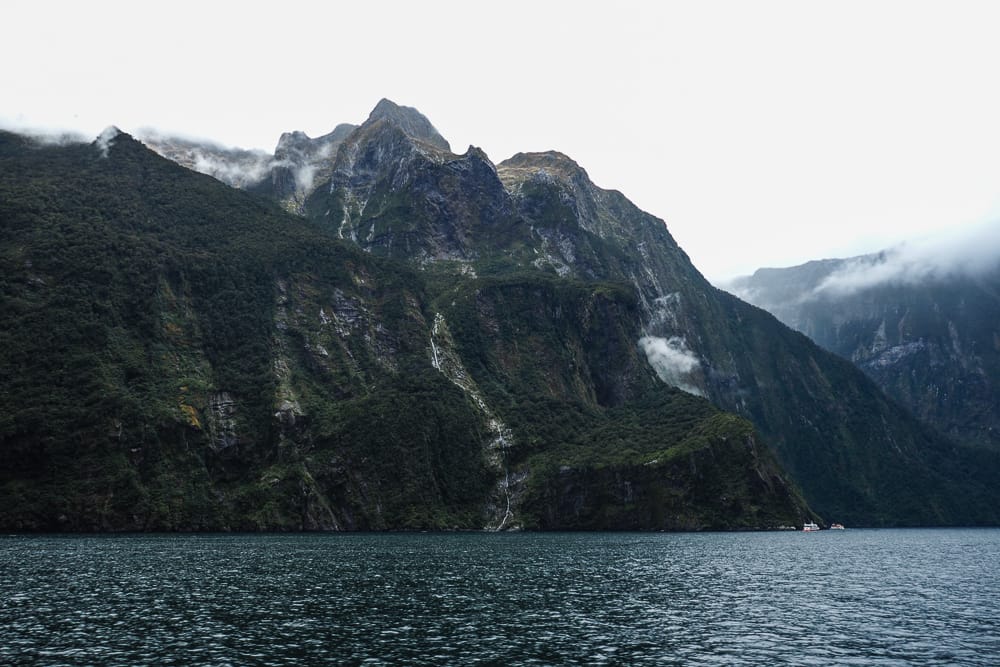 I'm not gonna lie, this was a super long day. I have mixed feelings about whether the cruise itself was worth the four hours drive each way. If the weather was a bit nicer and I'd done the tour from a closer location like Te Anau, I think I may have enjoyed it a bit more. I am glad I didn't drive to Milford myself though, as the Milford Road is considered one of the most dangerous in New Zealand, and we even saw the aftermath of a crash on our way back to Queenstown.
However, one bonus about it starting to rain while we were on the boat is that by the time we were on the drive back, tiny waterfalls had sprouted up everywhere around the mountainous landscape. That part was otherworldly. Unfortunately I couldn't get any decent photos through the bus windows but you can see what I'm talking about here and here. Milford's isolation and the wilderness that surrounds it does make it feel like you've stepped back in time. I also got to see fur seals lounging about on the rocks! That was pretty special.