Perhaps being from a reasonably remote corner of the world myself, off-the-beaten-track, "undiscovered" places have always interested me. Of course, in reality, all of the places on this list have already been discovered (or I wouldn't know about them!). This being said, they're all destinations that many people probably don't realise are out there. So I've decided to do a bit of a "deep dive" into some weird and wonderful places ranging from Tristan da Cunha, the world's most remote inhabited island, to Ittoqqortoormiit, the most remote village in Greenland. Hopefully you'll learn something new! In putting this together, I know I have.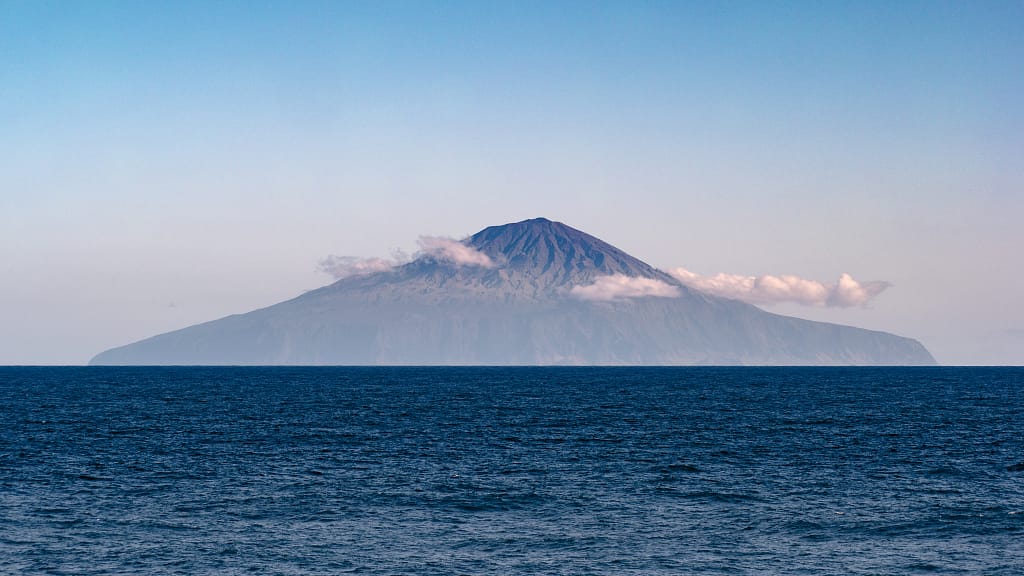 Tristan da Cunha
Right off the bat, you probably wouldn't guess that this incredibly isolated group of volcanic islands in the south Atlantic Ocean has God Save the Queen as its national anthem. That's right, Tristan da Cunha is officially a British Overseas Territory; they use pounds, drive on the left, and their capital is named Edinburgh of the Seven Seas (sounds very romantic!). I've been very interested in this tiny little group of islands since a class in high school, I think it was Social Studies, where we had to pick the name of a country out of a hat and then write a report on it. I can't quite remember what I included in said report and definitely don't still have a copy of it, but I doubt I'll ever forget Tristan da Cunha. Hopefully this random piece of trivia will help me in a pub quiz one day.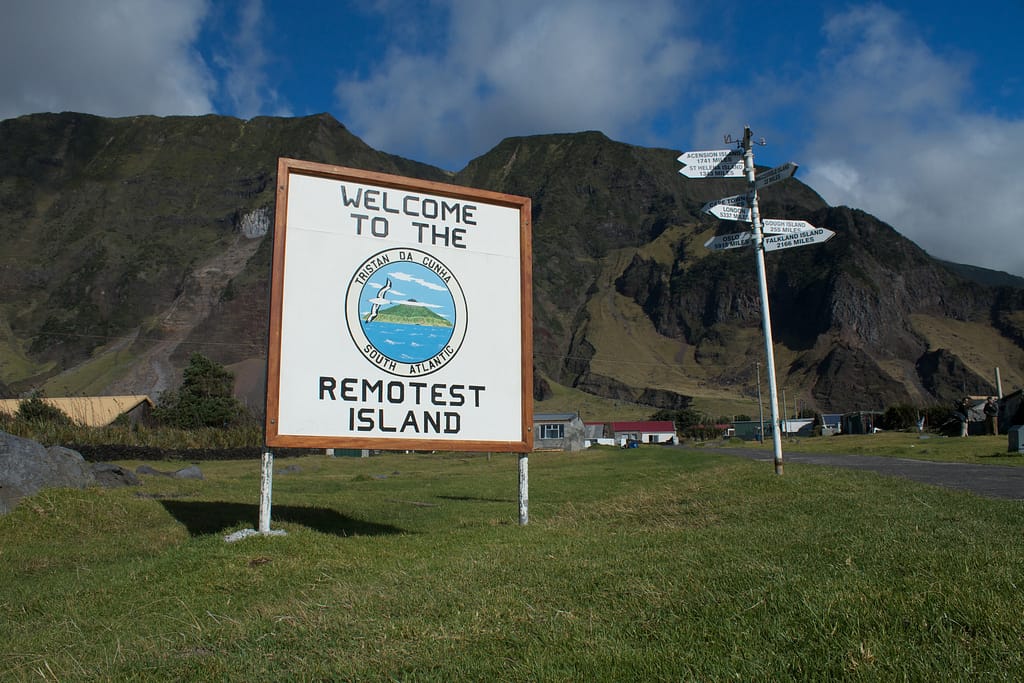 Language
The 250-ish residents of Tristan (as it's known) are called Tristanians and although they officially speak English, it has apparently developed a particular dialect. Renowned travel writer Bill Bryson wrote about the Tristanian dialect in his book The Mother Tongue:

"Without any doubt, the most far-flung variety of English is that found on Tristan da Cunha … the most isolated inhabited place in the world, 1,500 miles from the nearest landfall, and the local language reflects the fact. Although the inhabitants have the dark looks of the Portuguese who first inhabited the islands, the family names of the islanders are mostly English, as is their language—though with certain quaint differences reflecting their long isolation from the rest of the world. It is often endearingly ungrammatical. People don't say "How are you?" but "How you is?". It also has many wholly local terms. Pennemin is a penguin; watrem is a stream. But perhaps most strikingly, spellings are often loose. Many islanders are called Donald, but the name is always spelled Dondall. Evidently one of the first users misspelled it that way generations ago and the spelling stuck."

Bill Bryson, The Mother Tongue (1990)

How to get there
Well, there's no airstrip on the island… so by sea you must go! It takes five to six days to sail from Cape Town and you can do this either on a polar research ship or one of two fishing vessels – however they only do the voyage several times a year. Some cruise ships also visit Tristan on a route from Ushuaia, Argentina to Cape Town, but the prices are probably quite a bit steeper.
---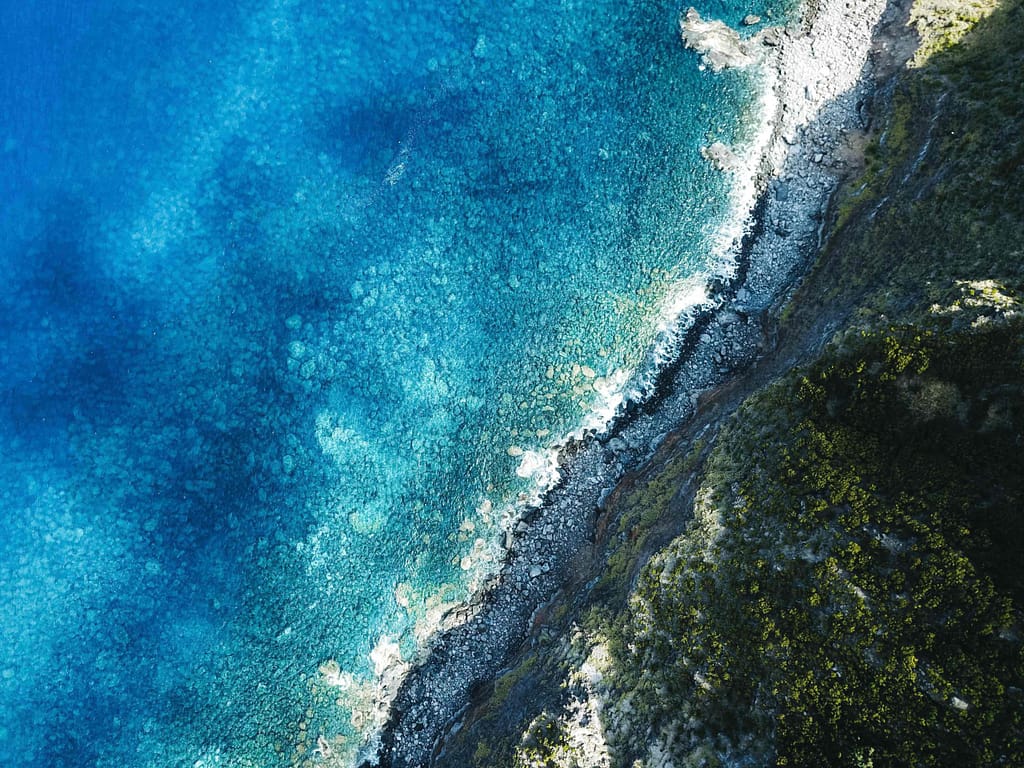 The Azores
Much more easily accessible than the literal middle-of-nowhere that is Tristan da Cunha is the Azores. A volcanic archipelago and autonomous region of Portugal, the Azores is located in the mid-Atlantic between Portugal and Newfoundland, Canada. The Azorean islands all have their own airports, three of them international, and you can fly direct from a number of countries in western Europe as well as the USA. Even RyanAir does flights from the UK for around 25 euros. I'm definitely going to try and visit sometime in the future.

Deemed the 'Hawaii of the mid-Atlantic' by Lonely Planet, the Azores seems to be a playground for adventurous travellers. From sailing to diving, surfing, paragliding, and much more – if you're an adrenaline junkie, this lesser-known island destination seems to be one to add to your bucket list. It also happens to be one of the best places in the world to see whales and dolphins, including bottlenose dolphins, sperm whales, and even blue whales!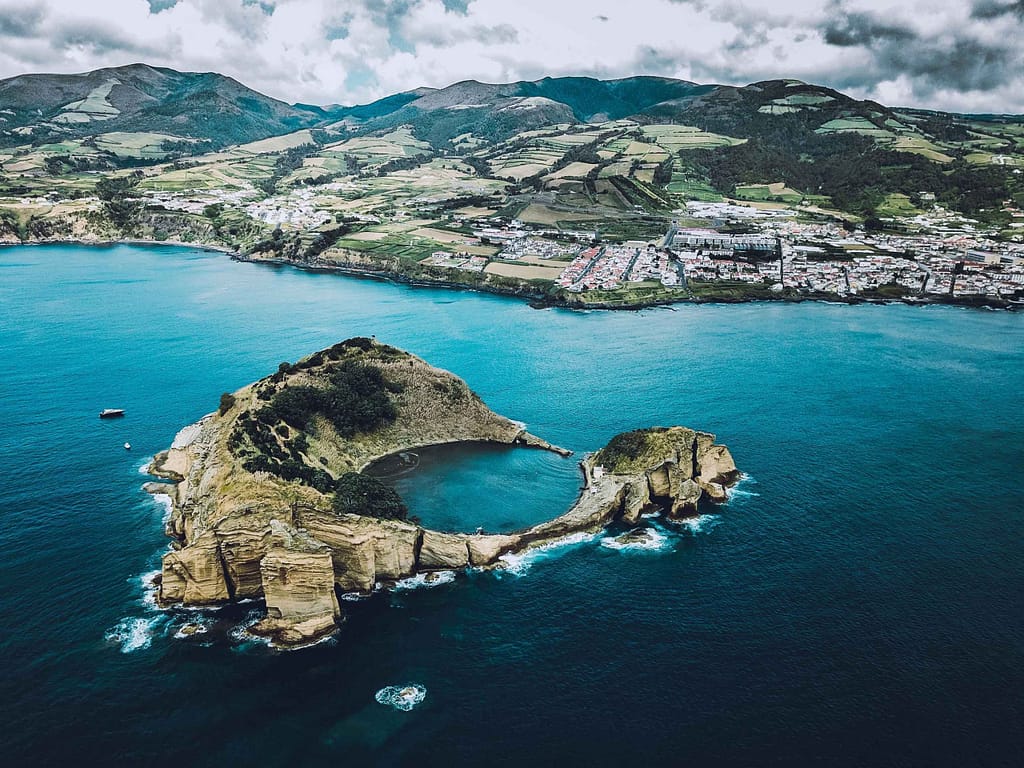 The Islands
Being an archipelago, the Azores is made up of nine volcanic islands, and there seems to be something for every kind of traveller! I've decided not to go into too much detail about each island, as there are so many of them, but have listed the highlights and points of interest of each.


Corvo: Most remote, tiny population, bird-watching, preserved traditions.

Faial: Whale-watching, black sand beaches, World War II forts, old churches.

Flores: UNESCO Biosphere Reserve, lagoons and waterfalls, outdoor activities, basalt columns.

Graciosa: Volcanic cave, windmills, rare Azorean dwarf donkeys, hiking, diving, whale-watching.

Pico: Cone volcano, UNESCO-listed volcanic vineyards, hiking, lava caves.

Santa Maria: The Azores' best beaches, watersports, terraced vineyards, whitewashed houses, hiking.

São Jorge: Dramatic scenery, outdoor activities, vineyards, villages, cheese.

São Miguel: The biggest island, Ponta Delgada (the Azores' capital – think cobblestone streets and seafood restaurants), botanical gardens, crater lakes, waterfalls, hiking, Europe's only tea plantation (Gorreana).

Terceira: Angra do Heroísmo (the Azores' oldest city), vineyards, lava-rock bathing pools, laurel forests, rural scenery.

How to get there
A few different airlines offer flights from the US (Boston, Oakland), Portugal (Porto, Lisbon, Faro), Frankfurt, Paris, Dublin, London, Amsterdam and the Canary Islands. Some people stop over on their way from the US to the UK or vice versa.
---
Ittoqqortoormiit
Formerly known as Scoresbysund, Ittoqqortoormiit is one of the most remote towns in Greenland. Actually, make that the remotest inhabited community in the western hemisphere! Hunting and tourism is the main source of income for the around 450 residents of this tiny town. Brightly coloured wooden houses with distinctive white joinery dot the rocky landscape. I can safely say I'd love to get the chance to photograph them at some point! The tricky thing would be surviving the cold… It's definitely advisable to visit in the northern hemisphere's summer. January and December are very dark and very cold (with an average high of -13°C!). It comes as no surprise Ittoqqortoormiit is one of the coldest permanently inhabited places on the globe. The monthly average high here is only 3°C, so if you're planning a trip be sure to pack your thermals.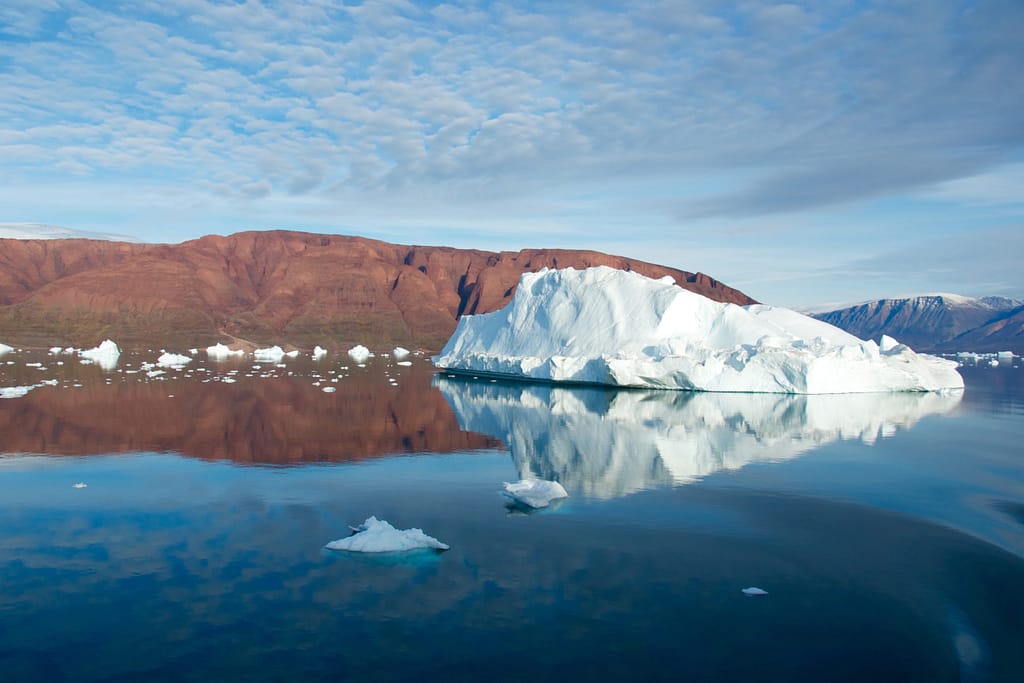 Activities here are all of the "arctic adventure" variety, think dog sledding, kayaking beside icebergs, wildlife spotting, and more. Ittoqqortoormiit neighbours both the Northeast Greenland national park – the largest national park on earth, and Scoresby Sund – the largest fjord on earth. Wildlife in the area includes polar bears, muskoxen, seals, walruses, and even narwhals! The town has one grocery store, a couple of small convenience stores, one guesthouse, and a pub that apparently only opens one day a week.

Greenland is the world's largest island, with Australia and Antarctica being considered "continental landmasses" as opposed to islands.* The official language is Greenlandic, spoken by the Greenlandic Inuits who make up 88% of the population. Other languages spoken include Danish, Faroese (from the Faroe Islands, which I'll discuss in a minute), Icelandic, Norwegian, and English. It's a very old country, it is estimated that people first settled here in the 26th century BC, with Norway colonising the island in the 10th century AD, the Inuit people arriving in the 13th century AD, and Denmark taking over in the 1800s. Greenland is now considered an autonomous member of the Kingdom of Denmark.

*For those who are interested, Great Britain is the 9th largest island and the North and South Islands of New Zealand are 14th and 12th, respectively.


How to get there
This tiny town is served by the Ittoqqortoormiit Heliport (side note, every time I type out Ittoqqortoormiit it takes a lot of concentration, must be good for the brain in some way). Air Greenland helicopters take people between the town and Nerlerit Inaat Airport. You can also transfer by boat from the airport to Ittoqqortoormiit, but only within a few months of the year. There are only one to two flights a week from Reykjavik in Iceland to Nerlerit Inaat, so it's worth planning in advance. Air Greenland also has flights weekly from fellow Greenlandic towns, Kangerlussuaq and Nuuk. I wouldn't say it's a destination for a spontaneous trip, that's for sure!

---
Special Mentions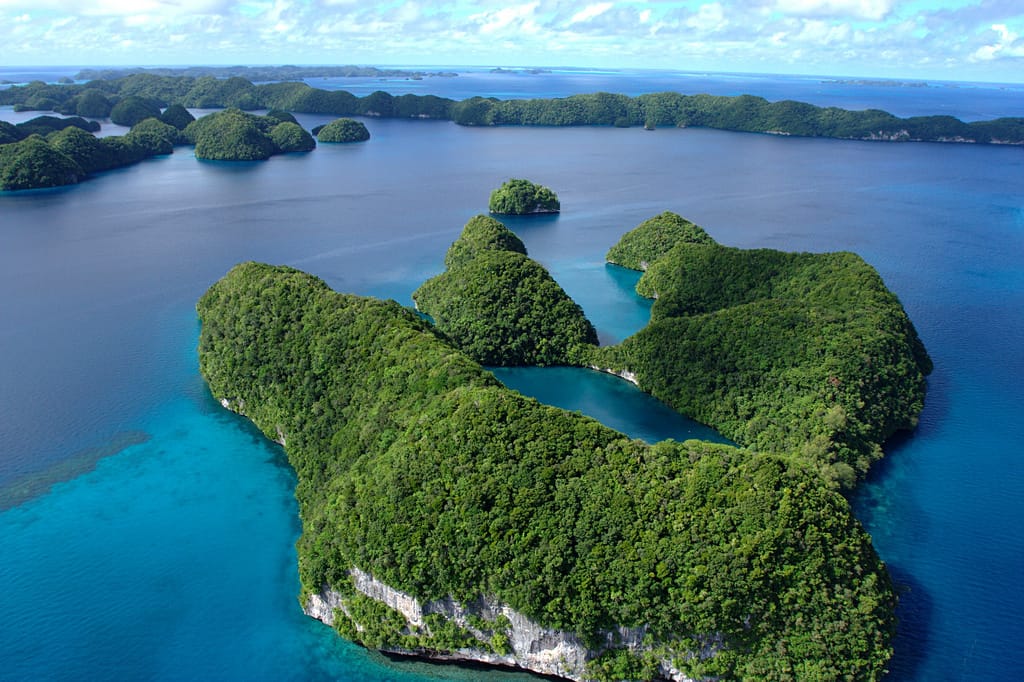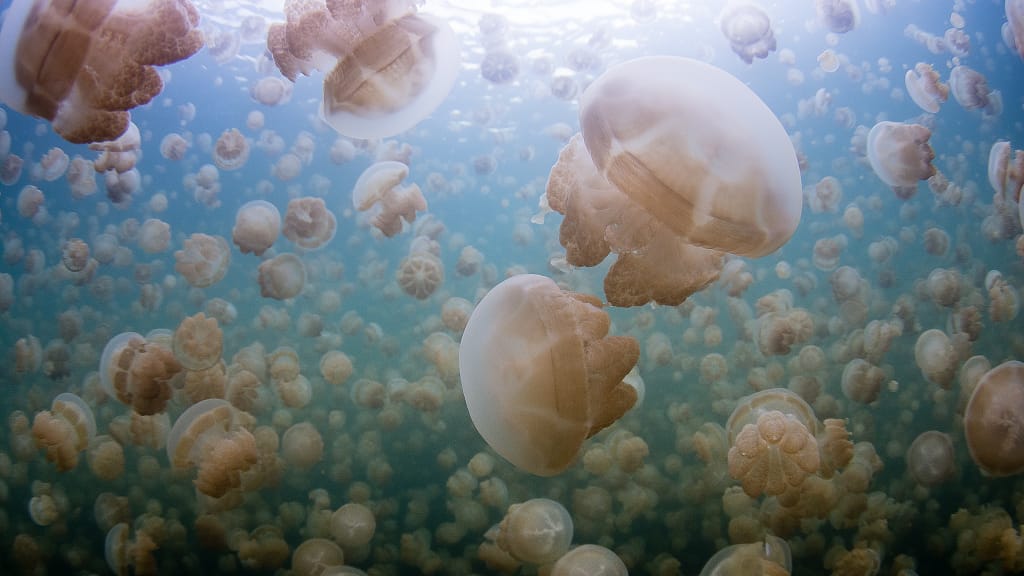 Palau
This country consists of over 200 islands (some sources say up to 500!). Palau is an excellent place for water activities such as snorkelling, diving, and kayaking. With a year-round average temperature of 28°C, it's a perfect place for lots of swimming! You may not have heard of Palau by name, but you have probably seen images of the stunning emerald green islands that stud the turquoise reef. Or perhaps you've heard of the famous jellyfish lake where you can snorkel alongside millions of harmless jellyfish. I know I'm adding it to my bucket list!

Stewart Island (Rakiura), New Zealand
Although I've not been to Stewart Island, I've got to rep my own country in some way! I've heard that people who haven't visited New Zealand yet often think of it as this unspoiled paradise far away… Living in Auckland has definitely made me a bit jaded. I sometimes forget that there are beautiful isolated places "in my own backyard". That said, domestic flights here to anywhere apart from the main centres are often more expensive than flying internationally. Seriously, I recently spent more booking flights to Queenstown than I have to fly to the Gold Coast in Australia. But with a bit of forward planning, religiously checking Grabaseat for deals, or psyching yourself up for a very long drive – it's definitely possible.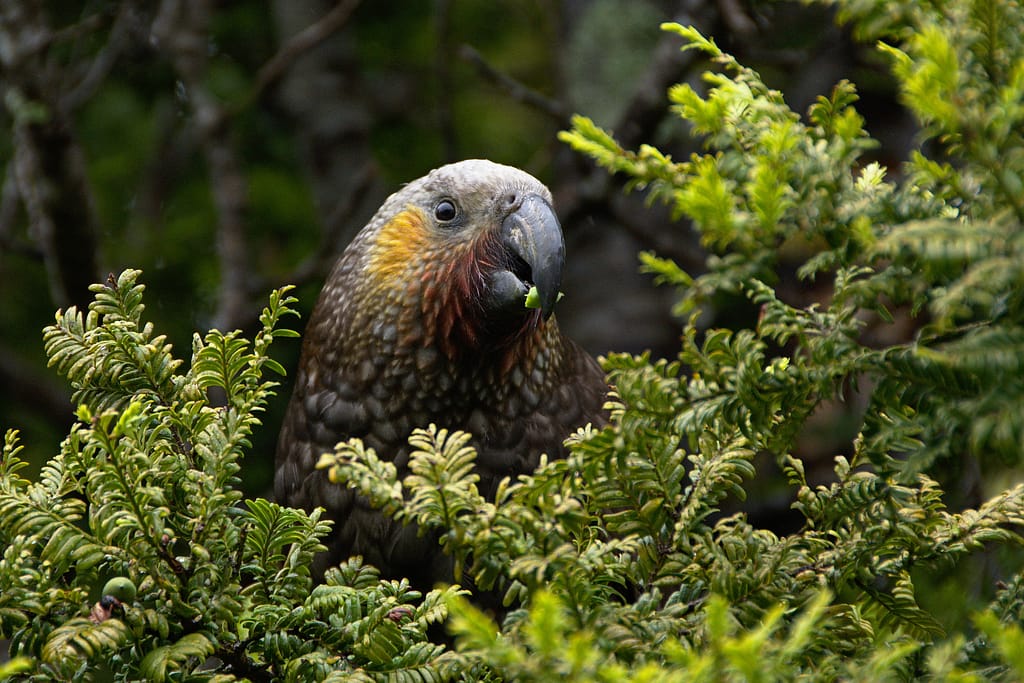 Anyway, on to Stewart Island, the third-largest island in New Zealand. Less than 400 people live there, the main settlement is named Oban (there are actually a lot of Scottish place names here), and the Māori name for the island is Rakiura. On the island it's possible to see the aurora australis (the southern hemisphere's answer to the northern lights). There are also many native species here – including kiwi!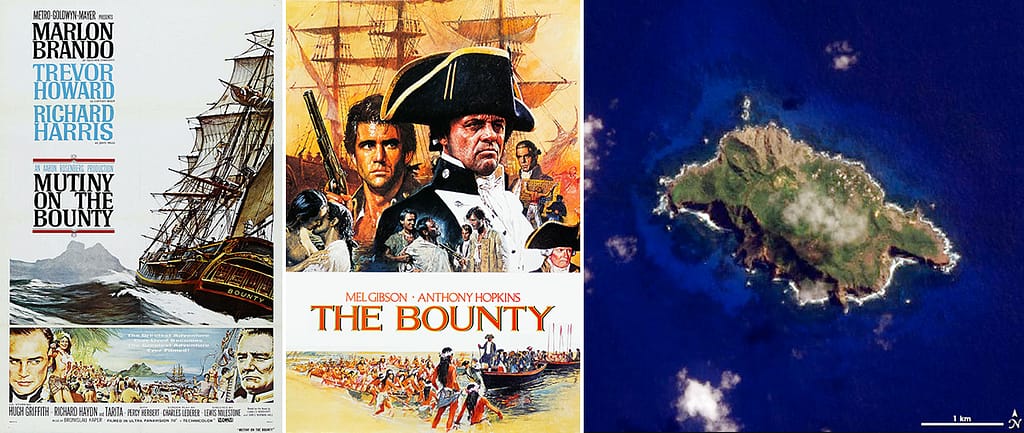 Pitcairn Island
Last but not least, Pitcairn, the island renowned for being the place where the mutineers from the Mutiny on the Bounty settled. This story has been retold in films, one featuring Marlon Brando and another, Mel Gibson! All this said, I don't know whether I'd actually be game to visit Pitcairn. This isolated little island actually inspired this whole post. I read an incredibly interesting article on the British Journal of Photography's website about photographer Rhiannon Adam's stay on Pitcairn. I won't say much more about it as I think the article definitely does a better job than I could. All I can say is that Rhiannon's commitment to her project is very inspiring and I'm now a fan. You can follow her on Instagram at @rhiannon_adam.

---
Sources
The inspiration for this post: Rhiannon Adam's revealing portrait of Pitcairn Island by Marigold Warner (British Journal of Photography)
Research: Good old Wikipedia, Lonely Planet, Mother Tongue by Bill Bryson, http://visitgreenland.com.
Images: As this is a 'Bucket List' post, none of these images were taken by me. Images without a caption are in the public domain. All other images and maps are credited with the necessary attribution in their captions.