A thirty-minute scenic drive from Limassol (Λεμεσός), located on top of a hill just south of the Troodos mountains, is the beautiful village of Lofou (Λόφου). Archaeological discoveries here date back to the Bronze Age, with the first written evidence of the village dating back to the French occupation of Cyprus (1192–1489).
The hills surrounding Lofou are terraced with old stone walls, remnants of historic vineyards that play backdrop to the picturesque, orange-roofed stone buildings. Today, wines are still produced around the village, and it's a great place to try traditional Cypriot Commandaria (κουμανταρκά), a sweet dessert wine made from some of the oldest grape varieties in the world.
How to get there
The best way to get to Lofou, and indeed around most of Cyprus, is by car. We had a rental car for our entire trip that we hired from the airport at Larnaca. From where we were staying in Limassol, it only took about half an hour to drive. Some of the roads are quite narrow and windy as they navigate the foothills of the Troodos mountain range, but we found that the majority of the roads in Cyprus were well-maintained and it was easy to travel everywhere.
There are buses that take you from Limassol to Lofou, however I believe these take substantially longer than driving. If you are in Cyprus without a car and want to explore some of the traditional villages, it may be worth booking a tour from one of the main centres – these often include wine tasting and other local specialties!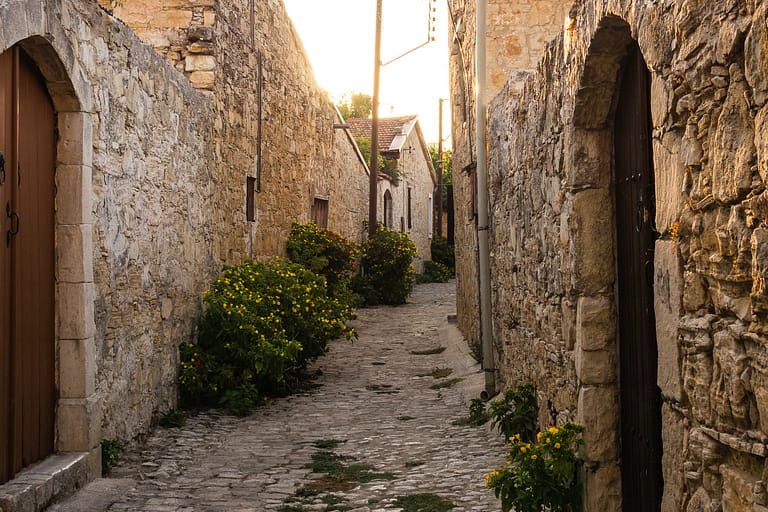 Things to do in Lofou
Wander the cobblestoned streets
The first thing we did upon arriving in Lofou is just walk aimlessly around the narrow cobblestoned streets. Old Cypriot villages make you feel like you've truly stepped back in time, a quiet escape from the bustle of Limassol where we were staying. As Lofou is built upon a hill, some of the streets are a little steep – comfortable walking shoes are a must! I'm really glad I bought some Teva sandals before going to Cyprus as they were super comfortable and perfect for long walks in the sweltering August heat.
Visit Panagia Chrysolofitissa Church
You will likely catch a glimpse of Panagia Chrysolofitissa Church (Ιερός Ναός Παναγίας Χρυσολοφίτισσας) from many vantage points in the village. It's worth a walk around, even just to see the view from where it stands. Unfortunately, we were unable to go inside due to Covid-19 restrictions, but I'm sure it's quite beautiful – as most Greek Orthodox churches are! The streets surrounding the church are a great place to spot some really lovely old stone buildings with rustic painted wooden doors and shutters.
Try some of the local delicacies
If you're walking around Lofou from late summer through autumn, you'll likely see big red pomegranates hanging from trees everywhere. Most of the tavernas in the village have juice from these pomegranates on their menu! We tried some with our dinner at the traditional family-run Lofou Taverna, where we also had the local Cypriot dishes of stifado (a stew with beef, red wine, and onions), vegetarian moussaka, and of course – a village salad (what we know as Greek salad, with lots of feta). You can also of course order traditional mezze, a must-try when in Cyprus! Other highly reviewed tavernas in the village are Agrovino Wine Shop & Bar and Taverna Kamares.
Visiting Cyprus in winter?
After visiting Cyprus in the heat of late summer, with temperatures in the thirties, I still can't quite believe that it actually snows there in winter. I've heard that the coastal cities never get very chilly, but once you head up into the mountains, there are even ski fields! This means that mountainous villages such as Lofou look quite different in the winter months, where snow occasionally blankets the roofs of the scattered stone houses.