Situated on the dry, rocky cliffs that overlook Cyprus' southern coast, the ruins of Kourion (Κούριον) outline one of the country's ten ancient city-kingdoms. This once-flourishing vantage point was occupied as far back as the 13th century BC, playing a part in the colourful history of an island which sits at the crossroads between Europe, North Africa, and the Middle East.
You could easily see the majority of Kourion within a day, perhaps combining it with a swim at the lovely beach below the ruins. If you happened to be staying in Limassol, as we were, the archaeological site is only about a half hour drive from the city. Entry fees for all of the ancient sites we visited in Cyprus were very reasonable. The main site of Kourion encompasses the ancient theatre, the Roman agora, the House of Achilles, the House of the Gladiators, the Roman baths, and the early Christian basilica. Located nearby is the Sanctuary of Apollo Hylates, once a main religious centre of Cyprus. If you visit in summer, I would highly recommend trying to time your visit on either end of the day. The heat around midday can be extreme and is definitely exacerbated when you're wandering dusty ruins with little shelter!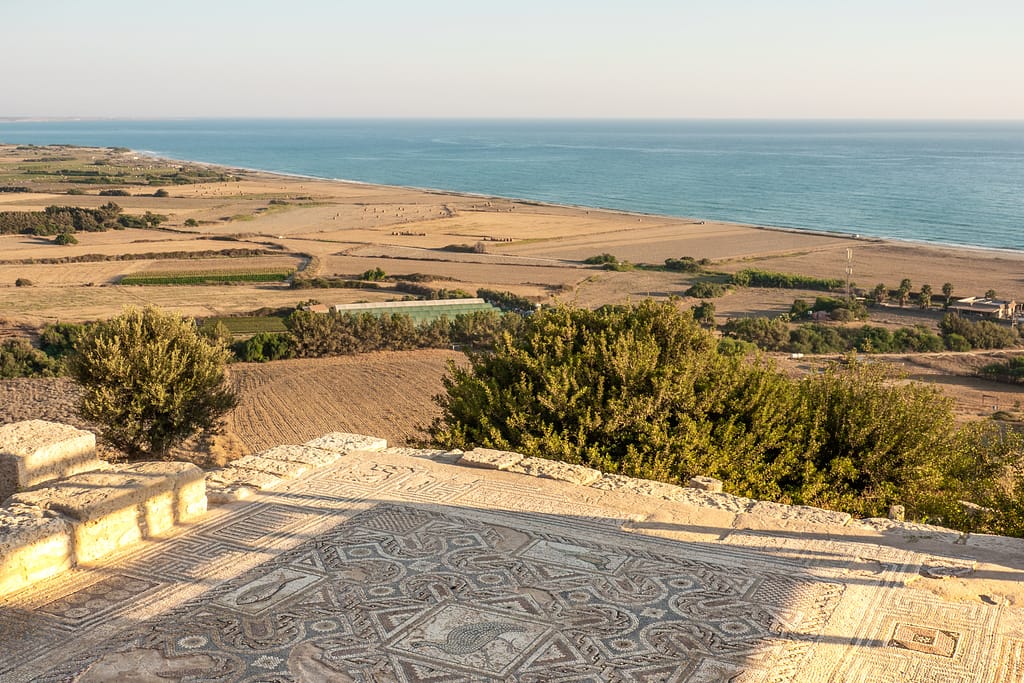 The low down
Kourion is located near Episkopi, west of Limassol
The archaeological site lies within a British Overseas Territory (without border controls)
Entrance fees are £4.50 for the main site and £2.50 for the Sanctuary of Apollo Hylates
A rental car is recommended when visiting Cyprus, however some tours may stop at Kourion
Set aside around two hours for the main site; half an hour for the Sanctuary of Apollo Hylates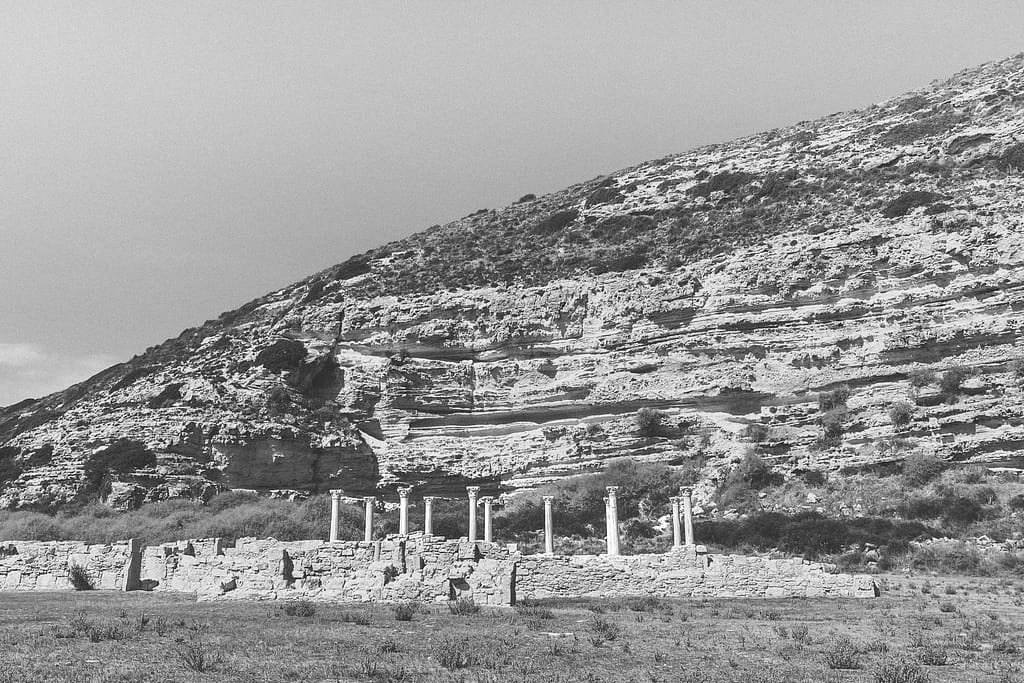 Walking through ancient history
Kourion is one of the ten ancient city-kingdoms of Cyprus. Inhabited from the Cypriot Iron Age (c. 1,000 BCE) until the Arab raids of the early Byzantine period (c. 649), the city was most likely established by the Argives – Greek people from the city of Argos. Earlier remains dating back to the Neolithic period (c. 5,500 – 4,000 BCE) have also been found at nearby sites located along the Kouris River, which flows into the sea at Kourion. However, most of the ruins you can see at Kourion today are from the Roman age, built after Rome annexed Egypt in 30 BCE. In the fourth century, the city was almost destroyed by five severe earthquakes, but was partially rebuilt. Then, 250 or so years later, Arab raids resulted in the destruction and desertion of Kourion, with many former inhabitants settling in nearby Episkopi.
Kourion Archaeological Site
When visiting the main archaeological site at Kourion, you can expect to do a fair bit of walking. We arrived too close to closing time to be able to see all of the site, but still managed to wander around and take photos for about an hour and a half. The warm-coloured stone does look pretty incredible in the light of a Cyprus sunset! There are gravel paths, but if you want to properly explore the ruins, comfortable walking shoes are definitely recommended. Points of interest include the well-maintained amphitheatre that overlooks the Mediterranean; the Roman hillside 'Earthquake House', where ancient tools and remains have been unearthed; an early Christian basilica built over Roman ruins; public baths featuring hot, warm, and cold chambers; and incredibly well-preserved mosaics at the House of Eustolios, House of the Gladiators, and House of Achilles. If you're short on time, you can do something similar to what I did at Kourion, which is see the theatre, visit the House of Eustolios for mosaics and Roman baths, and admire the columns and stone walls of the central agora (market). If you're there at sunset like I was, make sure you leave on time or the park wardens will come around on their golf carts and tell you off (in Greek)!
Kourion's theatre was first constructed in the 2nd century BCE, but was extensively renovated and enlarged around the year 100 CE, creating the seating arrangement you can see today – fitting an audience of around 3,500! Around 215 CE, the theatre was also used for gladiator games when they peaked in popularity among the Roman world, but this was only for a few years. A century or so later, the theatre was abandoned, potentially due to another large earthquake. It was excavated between 1935 and 1950 and the present remains have been restored extensively. Today, it is sometimes used as an events venue, primarily for the Festival of Ancient Greek Drama.
The Sanctuary of Apollo Hylates
Hylates was a god worshipped in Cyprus from the 3rd century BCE until the 3rd century CE. Later, he was associated with the Greek god Apollo, who was considered god of the woodlands in Cyprus. This ancient site originally featured a temple (traces of which make up the foundations of the temple pictured above left), a circular monument for ritual dances, and an altar. Roman times saw development of the site, with the addition of accommodation buildings, baths, a gymnasium, and a long street running from north to south. The temple (pictured above left) was rebuilt in the 1st century AD with a different architectural style and some of what you see today has been restored. This site is a lot smaller than Kourion, but the still-standing rows of columns and walls complete with doorways (pictured below) are really impressive here. We had this peaceful, tree-lined sanctuary all to ourselves, bar the pair of friendly cats we saw roaming around. I'd definitely recommend visiting either in conjunction with Kourion or on its own if you have less time but still want to see some interesting ancient stuff!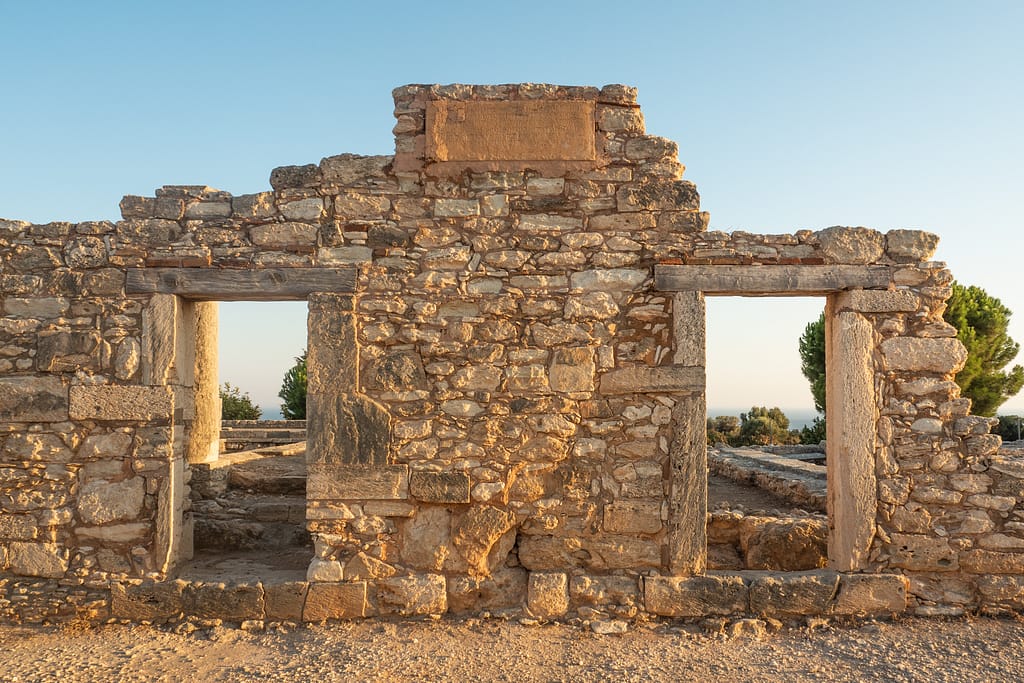 Distance from main centres
Limassol, 15 min via the A1 (16km)
Paphos, 40 min via the A6 (59km)
Larnaca, 1 hour via the A1 (84km)
Nicosia, 1 hour 10 min via the A1 (100km)
Ayia Napa, 1 hour 20 min via the A3 and A1 (128km)
How to beat the Cypriot heat (in summer)
To be honest, you can't quite beat it in summer, but there are some things you can do to keep yourself a little more comfortable. Being from New Zealand and living in England, I'm definitely used to a more temperate climate – not highs of 38°C every day! Cyprus in August is the hottest place I've visited so far, so I definitely learned a few lessons while I was there, especially when visiting archaeological sites:
Bring a water bottle
Although some sites may have vending machines, I would recommend you always have a water bottle with you wherever you go in Cyprus. Often we'd fill ours and leave them in the fridge overnight before a day trip, sometimes also freezing a big bottle to bring so we'd get an icy cold refill after lunch.
Avoid the midday sun if you can
Try to visit any archaeological site either as early as you can, or in the late afternoon before closing. In my opinion, the best place to be at midday is under a sun umbrella on a beach with some lunch and a large freddo espresso (Greek blended iced coffee – I was obsessed!).
Wear a hat
I wore a floppy straw hat everywhere we went and probably looked like a bit of a tourist, but it kept my head and ears sunburn-free.
Sunscreen your whole body, then do it again
Living in England for a year before visiting Cyprus meant my skin I hadn't seen very much sun in a while… Reapplying is key. I bought SPF 50+ once I realised just how strong the sun was and I didn't get burnt. I still managed a bit of a tan though!
---
References
Kourion – Frans Wendel, Livius.org
Kourion – The Princeton Encyclopedia of Classical Sites
Hylates – Wikipedia