Back in December I had some annual leave to use so I decided to book a little long weekend trip somewhere in Europe. After researching which destinations had flights on sale, I settled on Toulouse in the south of France.
Toulouse's nickname of la Ville Rose is due to the pinkish colour seen in many of its buildings. The city was first mentioned in the 2nd century BC, when the area was occupied by the Roman military. If you know me, you know I love old stuff, and Toulouse had it in abundance! From the Capitole de Toulouse to the Couvent des Jacobins, there's loads of history to explore. If it's food you're after, local specialties include cassoulet, saucisse de Toulouse, and aligot (mashed potato with garlic and cheese!). Toulouse is also famous for its fragrant violets, used in perfumes, sweets, liqueur, and much more. Comfortable shoes were a must – I did loads of walking around the streets and along the Garonne river. My daily step count was well up!
Pastel
When you're wandering the streets of Toulouse, you can easily notice the pastel blue accents scattered around the city. From window shutters to iron balconies, lamp posts, and more. Blue dye from the pastel (woad) plant made Toulouse wealthy in historic times. The contrast of the blue with Toulouse's rose coloured buildings makes it all the more prominent (and picturesque!).
Couvent des Jacobins
I spent my time at the convent wandering around the cloisters, admiring the restored paintwork inside the little chapels. The church (pictured above left) is free to walk around, but there is an entry fee for the cloisters. Construction of this pink brick building began in the 1200s. Following the French Revolution, Napoleon converted the church into barracks – destroying the stained glass windows and whitewashing over medieval paintings. Most of the building has now been restored and today it functions as a museum. Wandering around the cloisters and the peaceful garden was a lovely break from the busy streets, I'd definitely recommend it.
— Couvent des Jacobins Place des Jacobins, off Rue Lakanal (Entry to the cloisters: 4€)
Un café crème, s'il vous plaît
Two cafés I visited and liked were Ras la Tasse and Allegory Coffee Bar (pictured above right). Ras la Tasse is a student cafe with great coffee and breakfast options. I had the Petit Dejeuner Complet; a hot drink, orange juice, a baguette with butter and jam, and a pastry. Prices were really reasonable, and being a student cafe you blend in sitting alone with a book or laptop. Allegory Coffee Bar is owned by a barista who trained in Australia before returning to Toulouse. Australia and New Zealand are both huge on coffee, so us Kiwis and Aussies have pretty high coffee standards. This place did not disappoint!
— Ras la Tasse 3 Rue du Puits Vert
— Allegory Coffee Bar 3 Rue Peyras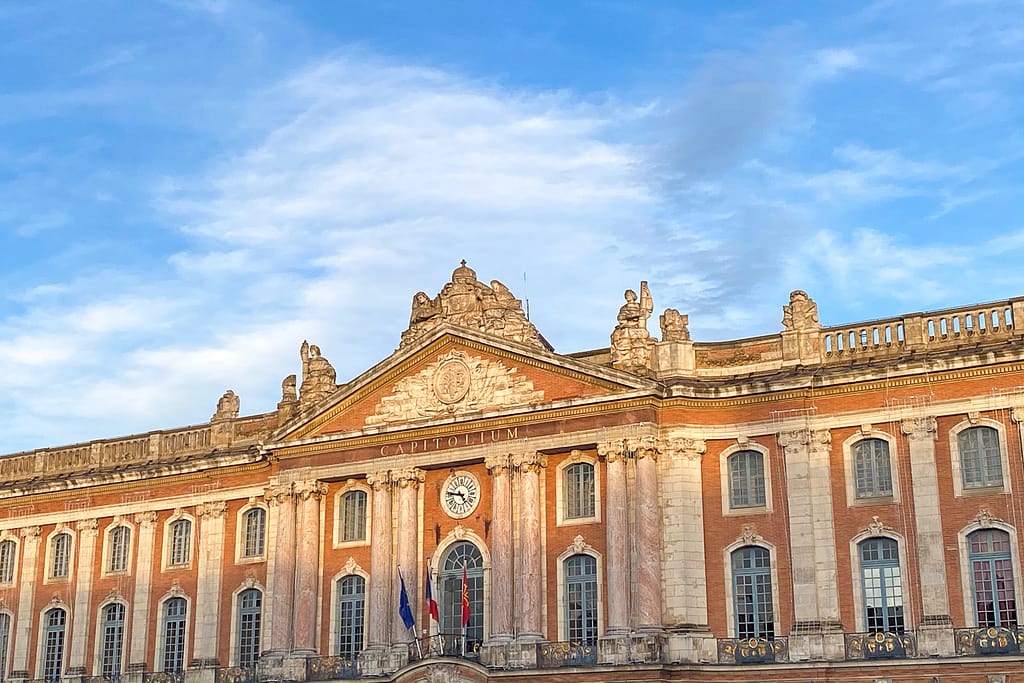 Marché de Noël
Of course, a pre-Christmas trip in Europe wouldn't be complete without visiting the local Christmas market. Toulouse's was held in the Place du Capitole, with the Capitole building itself providing a grand backdrop. There were dancers in historical dress, Santa on a horse drawn carriage, plenty of vin chaud and lots of local specialties to try. One notable thing I tasted was aligot, an exceptional comfort food for anyone who appreciates cheese and potato (a winning combo). Aligot is simply mashed potato blended with cheese, butter, cream, and garlic…. you can't go wrong with that!
Le Paradis Gourmand
If you're a bit of a sweet tooth, you'd find this place heavenly! This is the perfect place to find a little souvenir to take home as a gift. If you're wanting something especially unique to Toulouse, there's a whole section of violet-related treats. I bought a tube of candied violet petals and a selection of toffees.
— Le Paradis Gourmand 45 Rue des Tourneurs
Toulouse was the perfect size for a weekend away. Public transport is really straightforward – just buy a day pass at the airport and board the tram to the city. The tram then links with the métro system to get you where you need to go. Being close to everything is a must on a short trip, so I stayed in a small hotel in the middle of town. I definitely want to see more of the south of France, hopefully in the warmer months!
---